Fitness Mad Half Round Foam Roller (45cm)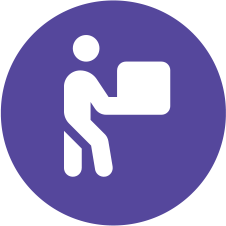 Free shipping on orders over £250
Description
Fitness Mad has 20 years' experience in the health and fitness industry, and offers high performance, commercial-quality equipment at excellent value. Fitness Mad is the choice of leading gyms, health clubs, studios and fitness instructors. Whether you are seeking products for home or professional use, or looking to improve speed, strength or recovery, Fitness Mad has something special for you.
Take your body conditioning and training to the next level with Fitness Mad exercise mats, gym balls, aerobic equipment and suspension trainers, and wind down with a selection of foam rollers and massage tools. Fitness Mad prides itself on its choice of premium yoga and pilates pieces at the most competitive prices in Europe.
Product features
This Half Round Foam Roller is made from high-quality EPP (Expanded Polypropylene) which is extremely durable, super strong, very lightweight, and recyclable. This roller won't get bent out of shape easily and is ideal for intensive use, at home and in a commercial studio/gym environment. The Half Round Roller is perfect for challenging balance, core stability and improving body awareness with exercise. Use it flat side down for stretching, and myofascial massage, or use it on the rounded side to create an unstable surface on which to work on your balance. At 45cm long, and semi-circular, this Half Round Roller adds extra challenge by being half the size, and it's perfect for taking out in your gym bag.
Specification
Dimensions (L x W x H): 45 x 15 x 7.5 cm
Superior durabilityExtremely lightweight
Made from Expanded Polypropylene (EPP)
Recyclable
Code: FROLLER90EPPHALF