Fitness Mad Shingle Yoga "Sand" Bag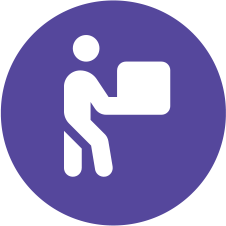 Free shipping on orders over £250
Description
Fitness Mad has 20 years' experience in the health and fitness industry, and offers high performance, commercial-quality equipment at excellent value. Fitness Mad is the choice of leading gyms, health clubs, studios and fitness instructors. Whether you are seeking products for home or professional use, or looking to improve speed, strength or recovery, Fitness Mad has something special for you.
Take your body conditioning and training to the next level with Fitness Mad exercise mats, gym balls, aerobic equipment and suspension trainers, and wind down with a selection of foam rollers and massage tools. Fitness Mad prides itself on its choice of premium yoga and pilates pieces at the most competitive prices in Europe.
EAN: 95069190
Product features
These yoga "sand" bags are filled with shingle which conforms better to your body shape providing even weight distribution whilst having the added benefit of not feeling as cold or damp as sand can feel! The Yoga-Mad OM Shingle "Sand" Bags can be used for Iyengar, Anusara, Yin or restorative yoga practices by deepening yoga postures, enhancing stretches, assisting with grounding and helping muscles relax. The outer cotton cover is soft, offering good grip on the skin and the inner nylon cover is durable and leak free. Complete with embroidered OM and a sturdy carry handle. Weighs approximately 5kg.
Moulds easily to your body shape
Ideal for yin or restorative yoga
Deepens yoga postures & enhances stretches
Specification
Code: YSANDSHING
Brand: Yoga-Mad
Material: 100% cotton cover & shingle filling
Colour: Purple/Pink/Blue
Dimensions: 42cm (L) x 18cm (W)
Weight: 5kg each
Care Instructions: Only the outer cover can be cleaned. Cold hand wash. Line dry. Do not put through a machine wash or spin cycle as this may damage the cover. Wash separately.