Fitness Mad Stability Cushion With Pump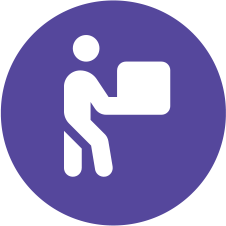 Free shipping on orders over £250
Description
Fitness Mad has 20 years' experience in the health and fitness industry, and offers high performance, commercial-quality equipment at excellent value. Fitness Mad is the choice of leading gyms, health clubs, studios and fitness instructors. Whether you are seeking products for home or professional use, or looking to improve speed, strength or recovery, Fitness Mad has something special for you.
Take your body conditioning and training to the next level with Fitness Mad exercise mats, gym balls, aerobic equipment and suspension trainers, and wind down with a selection of foam rollers and massage tools. Fitness Mad prides itself on its choice of premium yoga and pilates pieces at the most competitive prices in Europe.
Our Fitness-Mad® Stability Cushion is an ideal tool for improving balance and posture. You can kneel on it, or sit on it whilst exercising, increasing challenge to build core strength and tone abdominal muscles. It is also great for using whilst sitting and working at a desk. As this cushion is essentially 'unstable', by simply sitting on it, it keeps your core muscles working and your postural reflexes stimulated, even whilst seated!
To use the cushion on a chair, we recommend 15-30 minutes use at a time, repeating at regular intervals during the day so your muscles do not get overstrained. For greater challenge, you can let some of the air out of the cushion to further decrease the stability of the cushion, or increase the air with the pump included. The nodules help to grip the surface the stability cushion is being used on. The anti-slip dots on the smoother side are more comfortable for using when seated.
As well as a posture aid, it can be used for a variety of exercises for a full body workout. The unstable surface makes the exercises harder by engaging the core muscles. You can sit, kneel, stand, plank and perform push-ups with it.
Product features
Ideal for balance, posture and core strength
Can be inflated or deflated to increase or decrease the level of stability
Phthalate and latex free PVC
One side has small anti-slip dots, the other has nodules
Colour - grey
Includes pump
Instructions and warnings:
Remove from box and check for damage before use (a crease or fold marks are normal due to shipping)
Do not use the cushion if there are any signs of damage
Do not over inflate or use a high-pressure hose to fill. Only use the pump included to inflate
Do not forcefully insert the pump into the valve as this can puncture the stability cushion
Specification
Dimensions: 35cm (14") diameter
Maximum user weight: 100kg