Force USA Commercial Power Rack
Description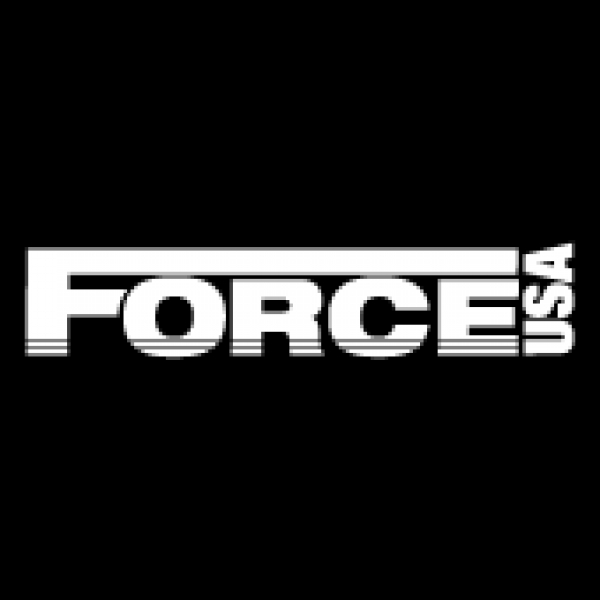 Force USA designs and engineers the safest and highest quality strength training equipment for home and light commercial use. With state-of-the-art precision laser cutting and robotic welding technology, Force has proudly set the benchmark for supreme craftsmanship and affordability combined. Its equipment survives hundreds of hours of R&D testing in commercial conditions to meet strict quality standards. Even carton packaging is tested to guarantee a product's safe arrival at its destination. Force USA delivers the most robust and versatile customised multi-gyms, racks, cages, benches and attachments to take pride of place in any home, personal training studio or commercial gym.The Force USA Commercial Power Rack is ideal for serious home gym fit-outs or commercial settings. Equipped with barbell, plate, chain and band storage as well as 2x sets of adjustable safety bars, the Force USA Commercial Power Rack is dual-entry, meaning you can enter from the front or side of the rack - perfect for training with a client or partner.
The Force USA MyBench FID Bench would be a great addition to the Force USA Commercial Power Rack. This powerful Commercial Power Rack Force USA has been specifically designed for tough, every-day usage in a commercial environment as in gyms, crossfit sporting clubs and corporate environments. The Commercial Power Rack Force USA is regularly referred to as the MONSTER rack and its features include everything you could want or need in a Commercial-Grade power rack.
Force USA is constantly improving designs to stay ahead of our competition. Images may vary slightly to actual product due to additional enhancements.
Product features
The Commercial Power Rack Force USA offers the following features:
SteelForce™heavy-duty gauge structural rolled steel tubing
The Uprights are made from 3mm thick heavy duty steel
EcoCoat™, eco-friendly commercial grade powder coating
4 band pegs for +/- training (also includes spring collars)
2 pairs of J-hooks
1 pair of safety rods
J-hooks are included
1 pair of safety bars with Band Peg slots and J-hook ends (effectively a total of 4 pairs of J-hooks)
1 pair of Safety hooks
Multi-grip Chin-Up bar with knurling
1 pair of Dip Handles
Holders for storage of bands and attachments
2 Olympic bar storage holders
12 Olympic weight plate storage holders
Pop Pins on all J-hooks and safeties which are quick to adjust, safe and secure
Rubber padding on J-hooks for noise reduction
36 vertical height adjustment positions on uprights (numbered for easy matching)
18 depth positions for band pegs on base and top of frame and also on safety bar
Specification
| | |
| --- | --- |
| SKU | F-CPR |
| Condition | New |
| Brand | Force USA |
| Size Assembled (LxWxH) | 193cm (L) x 168cm (W) x 230 (H) cm |
| Minimum Ceiling Height | 240cm |
| Minimum Room Width | 2.3m if you intend to us a 2.1m Olympic Bar |
| Minimum Room Length | 2.2m minimum if you you intend using a bench or intend exercising in front of the rack |
| Product Weight | 221kgs |
| Bolt Holes | Yes Within Welded Steel Foot Plates. No Plastic Endcaps! |
| Frame | 75mm by 75mm Commercial, heavy duty, SteelForce™, 3 mm thick |
| Protective Coating | 2-layer electrostatic eco-friendly EcoCoat™ |
| Warranty | Lifetime Structural Warranty, 2 Years on Moving Parts, 90 Days on Upholstery, 6 Months Accessories, Cables 2 Years (Extendable), Labour 1 Year (Extendable) |
| Power Rack | 36 Numbered Adjustment Positions. |
| Chin Bar | Multi Grip Chin Bar can reversed. |
| Dip Attachment | Yes |
| J-Hooks | Yes, 450 kgs Capacity With Nylon Barbell Protector. , With Safety Locking Pins |
| Safety Arms | Front Safety With Nylon Barbell Protector. |
| Additional Accessories Included | 12 Weight Plate Storage, Safety Arms, Solid Steel Pin & Pipe Safety, J Hooks, Band Pegs |
Frame

Lifetime Home Warranty on Frame
Light Commercial Warranty (supervised low volume usage less than 6 hours per day average) Available on Selected Units.
Moving Parts (Wheels, Pulleys and Cables)
2 Years unless otherwise stated.
Labour
1 Year (UK mainland only).
If you live in the UK mainland, you are covered for both labour and spare parts within the first year. Thereafter you will be charged only for labour and the cost of a technician getting to you if you need a technician. Many small parts are easy to replace.
Technical labour is spread across a number of highly qualified and specialised teams. As such, home and business visits need to be scheduled and may involve significant travelling arrangements. The average time period from reporting a fault until it is resolved will vary according to season, demand and where you live. This will be on average between 5 and 14 days.
It is highly likely that the engineering and customer care team will call you to try to resolve your problem before an engineer visit is arranged.
If the problem can be solved by simply sending you a part which could reasonably be replaced without an engineer then we reserve the right to do this.