Force USA Commercial Rack
Want to try before you buy? The Force USA Commercial Rack is on display in our showroom.
Buy now, pay later

Make one payment of £599.67 today, then pay the rest in two interest-free monthly payments. Available on purchases from £45 - £2,000. For purchases over this amount please contact our sales team on 01691 888 050
Checkout as normal and choose Pay in 3
Find out more about Pay in 3
Commercial leasing
Available for 2 - 5 years from £34.69 per month
Description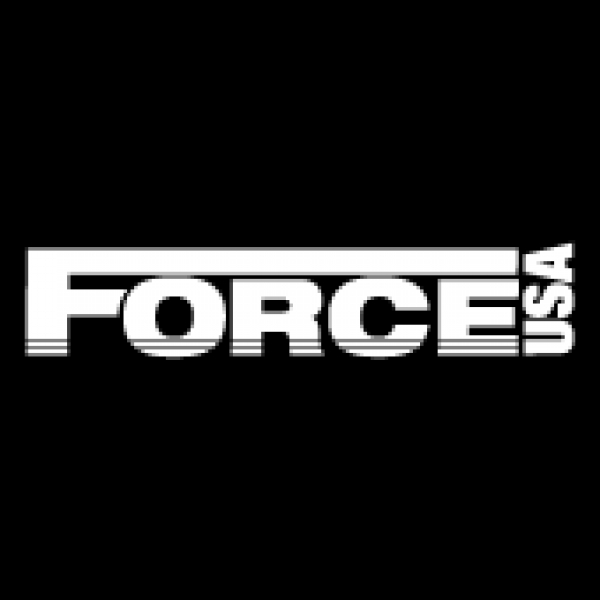 The Force USA Commercial Power Rack is ideal for serious home gym fit-outs or commercial settings. Equipped with barbell, plate, chain and band storage as well as 2x sets of adjustable safety bars, the Force USA Commercial Power Rack is dual-entry, meaning you can enter from the front or side of the rack - perfect for training with a client or partner.
Own a personal training studio or commercial gym? Train clients or like to train with a partner? This power rack is an absolute beast! Weighing in at 221kg, you won't find a beastier rack than this!
Force USA is constantly improving designs to stay ahead of our competition. Images may vary slightly to actual product due to additional enhancements.
Product features
This powerful Commercial Power Rack Force USA has been specifically designed for tough, every-day usage in a commercial environment as in gyms, crossfit sporting clubs and corporate environments.
The Commercial Power Rack Force USA is regularly referred to as the MONSTER rack and its features include everything you could want or need in a Commercial-Grade Power Rack.
The Commercial Power Rack Force USA offers the following features:
SteelForce™heavy-duty gauge structural rolled steel tubing
The Uprights are made from 3mm thick heavy duty steel
EcoCoat™, eco-friendly commercial grade powder coating
4 band pegs for +/- training (also includes spring collars)
2 pairs of J-hooks
1 pair of safety rods
J-hooks are included
1 pair of safety bars with Band Peg slots and J-hook ends (effectively a total of 4 pairs of J-hooks)
1 pair of Safety hooks
Multi-grip Chin-Up bar with knurling
1 pair of Dip Handles
Holders for storage of bands and attachments
2 Olympic bar storage holders
12 Olympic weight plate storage holders
Pop Pins on all J-hooks and safeties which are quick to adjust, safe and secure
Rubber padding on J-hooks for noise reduction
36 vertical height adjustment positions on uprights (numbered for easy matching)
18 depth positions for band pegs on base and top of frame and also on safety bar
Specification
| | |
| --- | --- |
| SKU | F-CPR |
| Condition | New |
| Brand | Force USA |
| Size Assembled (LxWxH) | 193cm (L) x 168cm (W) x 230 (H) cm |
| Minimum Ceiling Height | 240cm |
| Minimum Room Width | 2.3m if you intend to us a 2.1m Olympic Bar |
| Minimum Room Length | 2.2m minimum if you you intend using a bench or intend exercising in front of the rack |
| Product Weight | 221kgs |
| Bolt Holes | Yes Within Welded Steel Foot Plates. No Plastic Endcaps! |
| Frame | 75mm by 75mm Commercial, heavy duty, SteelForce™, 3 mm thick |
| Protective Coating | 2-layer electrostatic eco-friendly EcoCoat™ |
| Warranty | Lifetime Structural Warranty, 2 Years on Moving Parts, 90 Days on Upholstery, 6 Months Accessories, Cables 2 Years (Extendable), Labour 1 Year (Extendable) |
| Power Rack | 36 Numbered Adjustment Positions. |
| Chin Bar | Multi Grip Chin Bar can reversed. |
| Dip Attachment | Yes |
| J-Hooks | Yes, 450 kgs Capacity With Nylon Barbell Protector. , With Safety Locking Pins |
| Safety Arms | Front Safety With Nylon Barbell Protector. |
| Additional Accessories Included | 12 Weight Plate Storage, Safety Arms, Solid Steel Pin & Pipe Safety, J Hooks, Band Pegs |
Commercial leasing options
| | |
| --- | --- |
| Lease Term | 2 years |
| Weekly Payment | £16.94 |
| First Payment | £73.41 |
| 23 Monthly Payments | £73.41 |
| Total Cost | £1,761.94 |
| Tax Relief @ 19% | £334.77 |
| Net cost of Finance | £1,427.18 |
Benefits of leasing
Fixed rates for the duration of agreement
Major tax benefits - each payment Is 100% tax deductible
The equipment can be earning your next payment from day one
No need to have bank loans, overdrafts or pay cash
Fast application turnaround
Spread the cost of your equipment purchase
Protect existing lines of credit and preserve cash flow for business growth
All payments shown are subject to businesses trading over 3 years, status and VAT. The tax relief shown is for illustration purposes only. Please contact us to discuss how tax relief can work for you or alternatively your accountant will be able to clarify matters for you. Please note there is a documentation fee due with your first lease payment. Options are available at the end of the lease; contact us for more info.