Force USA Force PT Power Rack
Description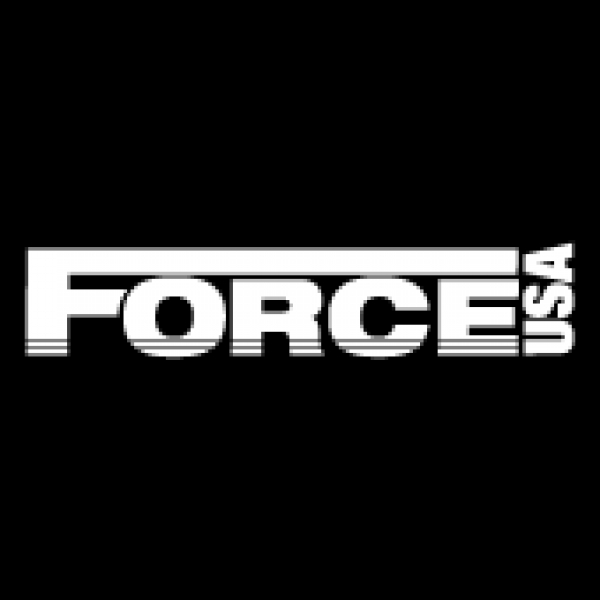 Force USA designs and engineers the safest and highest quality strength training equipment for home and light commercial use. With state-of-the-art precision laser cutting and robotic welding technology, Force has proudly set the benchmark for supreme craftsmanship and affordability combined. Its equipment survives hundreds of hours of R&D testing in commercial conditions to meet strict quality standards. Even carton packaging is tested to guarantee a product's safe arrival at its destination. Force USA delivers the most robust and versatile customised multi-gyms, racks, cages, benches and attachments to take pride of place in any home, personal training studio or commercial gym.
The Force USA PT Power Rack offers home gym owners and personal trainers a durable and versatile power rack for a range of exercises. It comes with 28 (25mm diameter) adjustment points, 3 inches apart, on the front and back uprights so you can make faster and more accurate adjustments for your J-Hooks and Box Tube Safeties. With the Force USA PT Power Rack you can push yourself to the limits safely, without the need for a spotter. Easily install and adjust the box safeties to any height without having to deal with fiddly nuts and bolts. The safeties come lined with nylon to ensure your barbells are protected. A perfect product which would offer support and comfort to a barbell would be a Hips Armour® Glutebuilder® Barbell Pad. Abrasion and friction damage to the Olympic barbell is also prevented by the protective, nylon-coated J-Hooks. These J-Hooks offer superior protection, compared with typical polyester powder coating. Nylon J-Hooks reduce the risk of rusting and dampen the noise of dropping a barbell back into the rack, making it perfect for training in your garage gym or PT facility.
Weight plates can be kept safely off the floor and easily accessible with the 2 x standard weight plate storage holders located at the rear of the PT Power Rack. As an optional extra, the Force USA Lat Pull-Down / Low Row Attachment allows you to easily add lat pulldowns, tricep pushdowns, low rows and many more movements to your training routine. Simply connect to the back of your Force USA PT Power Rack, and add plates to the loadable sleeves for resistance. The optional Multi Grip Chin Bar is perfect for traditional, neutral, close or wide-grip pull-ups weight rated at 200kg. The chin-up can also be inverted to fit into lower ceiling heights.
Product features
25mm diameter holes
76mm upright hole spacing
Includes 1 x pair Box Safeties
Includes 1 x pair J-Hooks
Specification
Dimensions (H x W x D): 213 x 121 x 121 cm
Maximum weight rating: 325kg
Pull-up bar rating: 200kg
Box Dimensions (cm)
Box 1/2 217.5 (L) x 23.5 (W) x 18.5 (H) 34kg (GW)
Box 2/2 151.5 (L) x 43.5 (W) x 17.5 (H) 28kg (GW)
Frame

Lifetime Home Warranty on Frame
Light Commercial Warranty (supervised low volume usage less than 6 hours per day average) Available on Selected Units.
Moving Parts (Wheels, Pulleys and Cables)
2 Years unless otherwise stated.
Labour
1 Year (UK mainland only).
If you live in the UK mainland, you are covered for both labour and spare parts within the first year. Thereafter you will be charged only for labour and the cost of a technician getting to you if you need a technician. Many small parts are easy to replace.
Technical labour is spread across a number of highly qualified and specialised teams. As such, home and business visits need to be scheduled and may involve significant travelling arrangements. The average time period from reporting a fault until it is resolved will vary according to season, demand and where you live. This will be on average between 5 and 14 days.
It is highly likely that the engineering and customer care team will call you to try to resolve your problem before an engineer visit is arranged.
If the problem can be solved by simply sending you a part which could reasonably be replaced without an engineer then we reserve the right to do this.