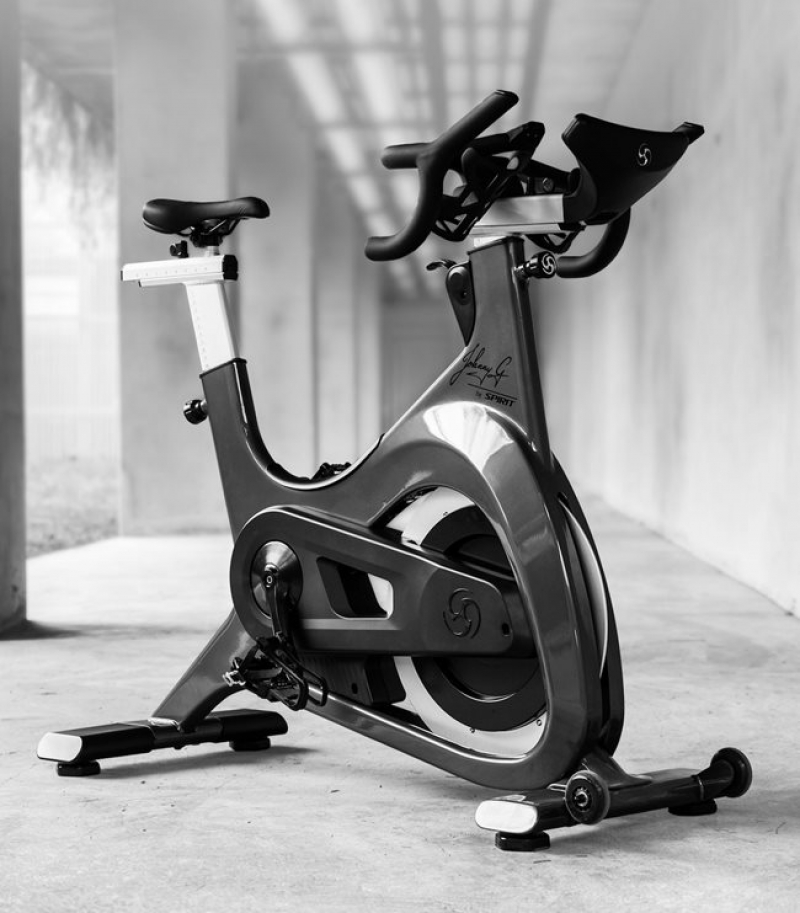 Johnny G Bike
Keen to try before you buy? The Johnny G Bike is on display in our showroom.

Download Product Sheet
Description
Owned by Dyaco, Spirit Fitness manufactures cardiovascular equipment for the home and commercial and medical facilities with one simple objective: to improve quality of life for everyone.
Spirit built its first fitness product in 1983, with the aim to give customers the highest quality equipment to keep pace with their goals. Year after year, its products are recognised by independent and consumer reviews and awards. Spirit remains focused on developing the exceptional designs that have crafted its brand.
Designed for hitting personal bests in cycling sessions at home, the Johnny G Bike from Spirit features a clamshell monocoque frame, powder coated to create a sweat-resistant finish. The Conti Syncroforce® and FleXonic Poly V® belt delivers the unique feel of a real road bike, with a 21kg flywheel providing smooth cycling motion, no matter how intense your workout. An electronically-controlled magnetic resistance system lets you increase the intensity mid-workout through 20 levels via easily-reachable multi-touch points.

The Johnny G Bike creates its own power with a generator built into the bike. A unique circuit design stores enough power to retain the workout information for at least 10 minutes and maintains connection to all user devices and leader boards when the user stops pedalling. Unlike other bikes, absolutely no batteries are used in this bike.
Product features
The cockpit-style console has been strategically crafted to transport you into an elevated state of performance through the integration of mind and body. View 6 data metrics at a glance on the heads-up display, while you work your way through the integrated Manual, HR Zone, Power Zone and LAP programmes.

The proprietary handlebar design offers additional comfort, and places resistance buttons at your fingertips regardless of your riding position. The handlebars and saddle are both adjustable vertically and horizontally, so it's easy to find your favoured position, with dual-sided pedals keeping your feet secure.
Specification
Display: 23 characters with 6 data metrics at a glance
Indicators: multi-colour heart rate and power zone indicator LED's
Programmes: heart rate zone, power zone, lap, Functional Threshold Power (FTP) test
Workout Summary: time, distance, watt avg, watt peak, speed avg, speed peak, heart rate avg, heart rate peak, RPM avg, RPM peak, lap, % time in heart rate zone, % time in power zone
Function Keys: forward control pad with resistance and play button to start workout from warm-up, additional resistance buttons at handlebar ends
Power Requirements: generator drive system with power save function to store workout data for 10 minutes when pedalling has stopped
Communication Module: Bluetooth® FTMS channels and ANT+
Resistance Control: electronically-controlled magnetic resistance with multi-touch point adjustments
Resistance Levels:: 20
Drivetrain: Conti Syncroforce® HTD and Hutchinson® FleXonic® Poly V® belts
Safety Stop: braking lever to stop flywheel
Seat & Handlebar: up/down – locking pop-pin, fore/aft – lever lock
Flywheel: 21kg / 46lbs
Crank Arms: 170mm / 6.7"
Q-Factor: 168mm / 6.6"
Pedals: dual sided with SPD and straps
Frame Construction: solid steel with 3 layers of protection (plated, powder-coated and clear coat
Leveler Feet: rubber to protect flooring
Dimensions: 1250 x 500 x 1100mm / 49" x 20" x 43"
Product Weight: 68kg / 151lbs
Max. User Weight: 159kg / 350lbs
Certificates & Patents: CE(EN957), UL, CSA, and FCC. Patent Pending.
Warranty - 3 years parts & labour