Kynett Force Extender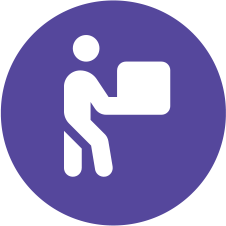 Free shipping on orders over £250

Download Product Sheet
Description
For the fanatics! In addition to heavier resistance discs, there is now also the Force extender to increase the resistance. The Force extender is a simple accessory that even doubles the resistance. By using the physical laws of a pulley, your exercises become heavier and at the same time the speed decreases. The Force extender is easy to connect and quick to remove.
The Force extender comes with a 4 meter webbing, a carabiner and two attachment rings to attach the Force extender to the Kynett and possibly also to a squat plate. The 4 meters of webbing is necessary to ensure that you have enough height to perform all exercises with the Force extender . The original ribbon (2.5 mtr) in the Kynett is easy to change. Watch the "How to" videos.
Product features
Specification
How does flywheel training work?
Flywheel training is an unique innovation in sports and physiotherapy. Kinetic training is another term for flywheel training. Training is done with a rotating disc rather than traditional weights. The flywheel is triggered and accelerated during the concentric phase by pulling a ribbon. When the ribbon is completely unrolled, the eccentric phase begins; so much kinetic energy has been built up that the ribbon rolls back up, just like a yo-yo. The goal is to slow the flywheel down during the eccentric phase before restarting it with a concentric movement.
We are not used to this in traditional strength training because the strength we give in the concentric phase is also the strength we get back in the eccentric phase. Because of the constant load, you can also get more out of an exercise by training your muscles more intensively and quickly. Flywheel training maximises the effectiveness of each repetition because you can continue training at a lower intensity if you become fatigued.
Traditional strength training allows you to reach a maximum number of repetitions faster because you must let go of the chosen weights at some point.Flywheel training exercises are also more multifunctional because you must always maintain balance at the start of the eccentric phase, and therefore appeal to your abdominal muscles.
How do you make the exercise heavier?
Flywheel training involves using relatively light weights. The speed of the exercise determines the intensity more than the weight used, as it does in traditional strength training. The heavier the eccentric resistance, the harder the movement is deployed. Resistance discs of 3mm thickness (800gram), 4mm thickness (1200gram), and 5mm thickness can be used with the Kynett HOME (1550gram).
These can be combined, but they can also be used separately. The device can hold up to two discs at the same time. Heavier resistance discs of 6mm thickness (1660gram), 8mm thickness (1950gram), 10mm thickness, 12mm thickness, and 15mm thickness (2550gram) can also be used with the Kynett FIT, PRO and ULTIMATE.