Power Plate® DualSphere™
Contact us for a quotation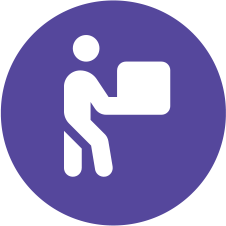 Free shipping on orders over £250
Description
Power Plate training is more efficient than any other traditional exercise, amplifying the benefits of smaller movements, without additional free weights, making it ideal for everyone from beginners to elite athletes. Power Plate is the world's leading medically certified harmonic vibration platform that helps you feel better by stimulating natural reflexes, increasing muscle activation, and improving circulation. Our equipment offers one of the most efficient workouts available—providing a total-body workout in less time than traditional exercise. It's low impact, fun, and best of all, it's accessible to everyone.
The Power Plate DualSphere is perfect for effective, concentrated massage.Featuring a unique contoured shape and exclusive textured design, the DualSphere is ideal for targeting hard to reach areas including feet, neck and back to help relax and rejuvenate tight and sore muscles, release fascia and promote blood flow to help you warm-up faster and recover more quickly.
Weighing in at under 2lbs with a 3 hour battery life, the Power Plate DualSphere is the perfect portable recovery tool for tough-to-reach spots other massage rollers can't reach.
Product features
Targeted vibration therapy is perfect for treating the following
Neck Pain
Calf Pain
Back Pain
Foot Pain
Joint Pain
Sore Muscles
Specially Designed for Hard to Reach Places
Targeted Vibration Products are uniquely designed to allow you to massage hard to reach places so that you are able to stop pain right at the source.
Vibration Therapy is Trusted By
World class athletes
Celebrities
Billionares
Specification
Frequently Asked Questions
Does vibration therapy really work?
One of the most common questions that we get is "Does it really work?" The answer is yes, Power Plate is used by world class athletes like Serena Williams, F1 race car drivers, PGA golfers, NFL players and everyday folks.
Is Power Plate just for athletes?
No, the majority of our customers are just people who suffer from chronic muscle and joint pain. Our products are designed for everyone, but as a result of the physical benefits they are increasingly popular with athletes and fitness buffs as they are often more prone to injuries.
Do the vibrations hurt?
Targeted vibration products gave multiple vibration modes ranging from a gentle shake to a strong vibration. The strong vibration is for those seeking a deeper tissue treatment. There is no reason to worry about the vibrations being too powerful as you can use the setting that you feel most comfortable with!
Is the Power Plate loud?
No, Targeted vibration products are remarkably quiet and designed for home use.