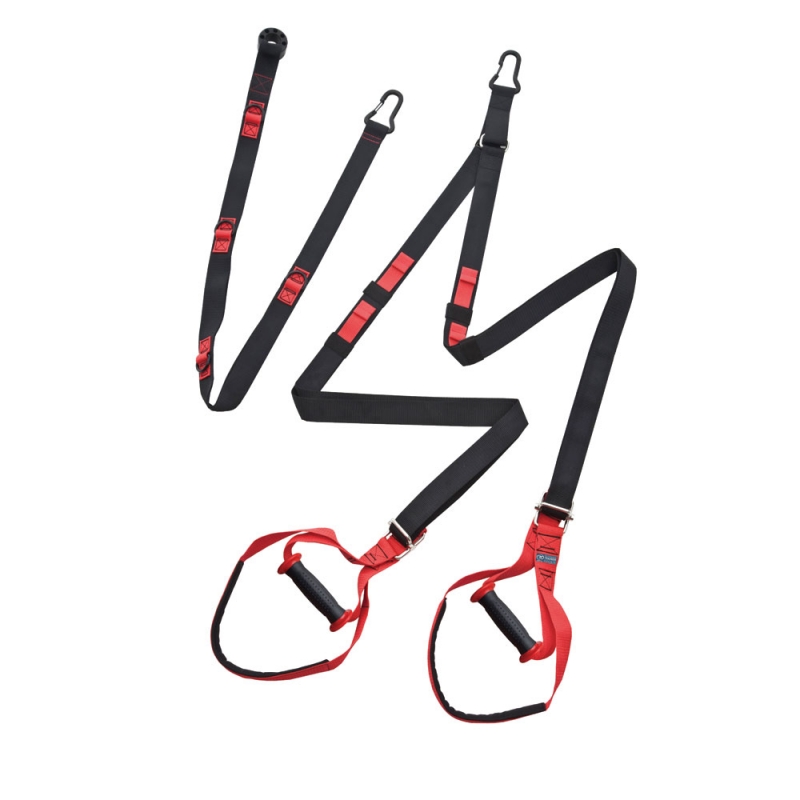 Pro Suspension Trainer
RRP £64.99. CYC FITNESS PRICE £49.99
Description
The Fitness-Mad® Pro Suspension Trainer is a portable, lightweight training system that allows you to workout anytime and anywhere, be it from a door frame, wall anchor or a tree! It uses your own body weight as resistance to strengthen the whole body, whilst building muscle and burning unwanted fat. Suspension training increases flexibility and endurance and helps to develop and maintain a strong core. The high performance Pro Suspension Trainer has been independently load tested to over 1000lbs (450kg), and features hi-strength polyester webbing with industrial bartack stitching.
The unique steel, T-fastener buckles allow for quick adjustment of the Apex-style straps, which adjust from 1.2m to 2.5m (excluding anchor strap) to suit users of all sizes and abilities. The Apex straps attach to the 1.25m anchor strap to offer 5 different attachment points when used with the integral door jam or when clipped to a wall anchor eyelet (not included). Alternatively, the anchor strap can be wrapped around a tree or secure object with a circumference of up to 1.1m for complete flexibility on where you work out. Quality ABS hand grips with integrated foot cradles, for use in ground-based exercises, allow you to work out your entire body.
Safety note:
As this equipment can be used in a variety of environments, including the outdoors, always check for wear and tear before use and replace if any signs of damage exist. Always check that the item you attach the anchor strap to is suitably strong to support your dynamic weight before working out.
Product features
Portable, lightweight suspension trainer for on-the-go training
Great for strengthening the whole body, building muscle and burning fat
Hi-strength polyester webbing with industrial bartack stitching
Unique steel, T-fastener buckles for quick adjustment
Load tested to over 1000lbs (450kg) to ensure safety and high performance in use
Adjustable Apex-style straps: 1.2m to 2.5m (excluding anchor strap)
ABS padded handgrips or upper body exercises
Integrated foot cradles for lower body training
Mesh carry bag included
Specification
Maximum user weight: 125kg (19st 9lbs)