TANK™ M1 Wheelbarrow Handles
Contact us for a quotation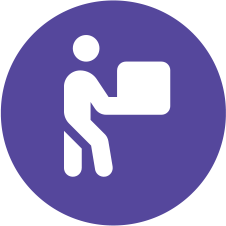 Free shipping on orders over £250
Description
Torque Fitness was founded in 2005 by a team of specialists whose experience in designing and manufacturing award-winning innovative strength training systems for Life Fitness, Hammer Strength, Parabody, and Sports Art stretches back to 1979.
The team recognised an opportunity to create unique strength training products to meet customer needs better than many of the look-alike strength products on the market. By maintaining an efficient and agile business structure, Torque Fitness team members can focus on listening to customers and reacting quickly with creative, innovative ideas that differentiate their products with meaningful functions and features. The Torque Fitness tank's come with a verity of functional attachments.
Product features
The TANK™ M1 Wheelbarrow Handles are a specially designed accessory to increase TANK movement options. These storable handles allow for performance of exercises such as carries and shrugs. Wheelbarrow handles also make it easier to maneuver, lift, and spin the M1 in any direction and have color matched, textured paint and debossed tubing for better grip. Build muscle and explosive power as you expand your TANK training, but Don't Quit. Ever.
*For wall-mounted storage, see the XTM1-WMSS
Specification
Perform TANK™ M1 carries forward and backwards with or without resistance
Perform shoulder shrug exercises
Easily attach and remove handles without the use of tools
Storable with the use of the Wall-Mounted Storage System (XTM1-WMSS)
Compatible with M1 model only
Dimensions: 69.7" x 31.9" x 26.3" (177 cm x 81 cm x 67 cm)
Weight: 11.2lbs (5.1kg)
Compatible: TANK™ M1