Ferrum, Wembley Park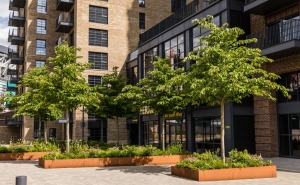 Distinctive 'New York loft living' has come to Ferrum, to blend the old and new in one of London's freshest and most exciting places to live. Just 12 minutes from Central London, Ferrum has taken inspiration from the nearby Wembley Park railway, to create a unique 'industrial and handcrafted warehouse aesthetic.' The melting pot of cultural events, fabulous new shops and iconic entertainment foster true community spirit.
Close to Wembley Stadium, Ferrum comprises 741 studio apartments and one, two and three-bedroom homes which can be rented directly from the developer, Tipi. Co-curated with John Lewis & Partners, the apartments' exposed copper pipework and brick meet smooth wooden worktops, leather sofas, and pops of colour alongside state-of-the-art appliances.
Ferrum's south-facing housing showcases wide-reaching views of London to the City, Richmond, and Surrey. Social spaces make up a core part of life at Tipi. Signature residents' lounge, 'The Foundry', takes up an entire floor and serves as a relaxing hub of social activity. Gardens are pet-friendly and feature barbecues and lawn games.
The Brief:
Ferrum is worthy of a thrilling functional training space for its householders, which is where CYC was called upon to recommend and supply some of the fitness industry's most innovative equipment.
The Result:
Ferrum can boast an outstanding gym graced with the incredible Brewer Fitness rotating climbing wall, Treadwall S6, the hugely popular Abs Company TireFlip 180XL for versatile and hygienic tyre training, boxing bags and functional accessories from Escape Fitness. Technogym cardio and strength pieces complete this enviable residential facility.