Inspire Fitness M1 Multi-Gym
Contact us for a quotation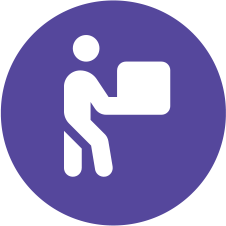 Free shipping on orders over £250
Description
As part of the Inspire Fitness "M Series" the M1 provides excellent workout opportunities at home. The M1 "studio" tower offers over 50 professional-grade exercises at six individual pulleys, which can usually only be found at professional fitness studios. Efficiency, superior design and premium quality are guaranteed with the M1.
Muscular inbalances are now a thing of the past. The Inspire Fitness M1 multi gym was developed by professional fitness trainers, with the most important biomechanic principles and the best physiological body positions in mind. The independent cable routing offers an efficient workout and is easy on the joints. A virtually unlimited number of exercises, quality finish, high resilience, perfect tension balance and a modern purist design leave no margin for compromise. The exceptional space forward design allows for placement in even the smallest rooms. The Inspire Fitness M1 multi gym offers a variety of professional exercises on fitness studio level for the chest, shoulders, abdominals, back, arms and legs.
Product features
Efficient functional training that uses several muscle groups at the same time
Time-saving free weighted pulley exercises
Compact design fits in almost any corner of your home
Quick and easy adjustment in between exercises
2 high pulleys, 2 mid pulleys, 2 low pulleys provide unlimited number of cable exercises
1:2 resistance ratio
A telescoping seat enables both seated and lying-down exercises
Heavy-duty round tubular steel
Electrostatic powder coat finish
Iso lateral movements
Compensation of muscular inbalances
For sport specific exercises, like the golf swing
Stable 5 point floor contact with adjustable rear feet that levels out for uneven floors
Backrest adjustable 9 times up to 90 degrees
Rotatable swivel-joint up to 160 degree at high
75 kg (165lbs) (1:2 ratio for 82.5lbs per pulley) weight stack
Precision ball bearings for smooth, steady as well as quiet motion sequence
Cable length up to 220 cm (extendible for functional training)
4 x Rubber D Handles, 2 x Multi-Ring D Handles and Ankle Strap included
Available add-ons: ankle strap, revolving Curl Bar, Sport Handle, Ab Bar, 3-hole Lat Bar, 5lbs add-on weights
2 x 50lbs, 2 x 5 lbs add-on weights (110lbs maximum per pulley), Bench, Preacher Curl Attachment, Leg Extension/Curl Attachment, Ab Bar
Adjustable bench and back rest
Matte black
Specification
Dimensions: (L x W x H): 193 x 99 x 218 cm (76 x 39 x 84 inches)
Product Weight: 180kg
Maximum user weight: 185kg (410lbs/29 stones)
Warranty: Home warranty: lifetime frame and parts, 2 years cables, 1 year labour
Boxed Dimensions :
Box 1 : 218 x 66 x 22cm / 86 x 26 x 10"
Weight : 78kg / 172lb
Box 2 : 95 x 99 x 27cm / 37 x 39 x 11"
Weight : 46kg /102lb"
Box 3,4,5 - 3 x 50lb weight stacks - 150lb/66kg