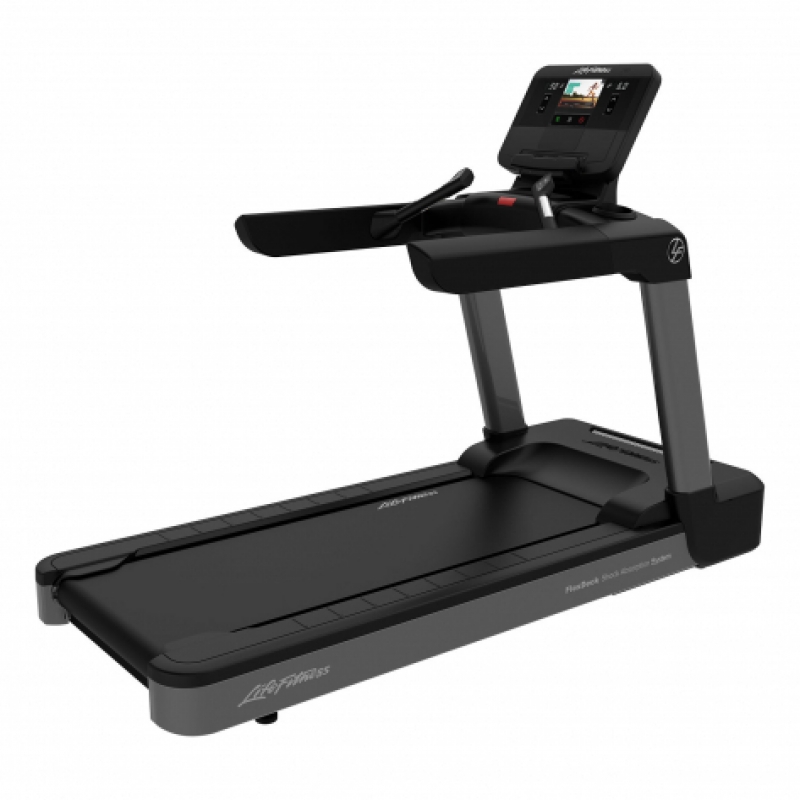 Life Fitness Club Series+ Treadmill
Excellence on every level
Description
For more than 45 years, Life Fitness has been dedicated to creating solutions that benefit both facilities and exercisers. The company mission to keep people active started with the Lifecycle exercise bike, and continues with the widest range of cardio, strength and group training products in the fitness industry. Based in Chicago, USA, with nine other offices worldwide, Life Fitness has become synoymous with ingenuity and durability.
Fitness has changed dramatically over the last few decades, and Life Fitness has evolved with it. Countless fads have come and gone, but Life Fitness has endured to encourage people to lead active lives. Its designs strike an unbeatable combination of functionality and innovation, and are regarded as a wise investment for many years to come.
The Life Fitness Club Series+ Treadmill delivers excellence on every scale. Redesigned and re-engineered, this treadmill offers intuitive technology, advanced features and a modern frame design that fits seamlessly into your home.
The intuitive touchscreen console creates a connected experience. Your last workout is automatically saved, so you can replay it and improve your performance. You can further expand your workouts with the LFConnect training app, as you track progress, access personalised workouts, and view an in-workout display as you push through mile after mile. Simply set up your sessions on LFConnect.com or on the app, connect to the treadmill from your phone or tablet via the QR code, then track your progress via the custom in-workout display as you work towards your fitness goals.
The Life Fitness Club Series+ Treadmill offers a wide running surface of 22" (56 cm). The sleek design and low step-up height of just 8" (20 cm) ensures the treadmill fits in your home. The open space near the console provides more space whilst you exercise, and the integrated speed and incline buttons allow adjustability, without interfering with your workout.
Equipped with RunSocial connectivity, you can invigorate your runs by tracking through real-world videos of beautiful locations and see, inside your video, avatars of others doing the same in real time from around the world. By tracking your running speed, the incline changes with the course as you enjoy the panoranic scenery from the comfort of your home.
Run in the real world and power your avatar across hundreds of virtual courses with the Zwift running app. Equipped with numerous exotic fictional and real world locations and various running programmes that are tailored to your fitness level, your training needs are covered. Head out solo, join friends, or jump into a group workout and dig into post-run metrics to have your best season yet. The Zwift community keeps you motivated to stay on course and finish at your best.
The Series+ display feeds back your time, distance, speed, incline, calories and heart rate, whilst the expanded display offers additional metrics, such as distance climbed, average heart rate and average speed. The console also features a handy USB charging port, wireless connectivity and software updates (wireless or USB). Choose from classic programmes such as Manual, Random, Hill, Distance and Calorie Goal, or try out Rolling Hills, Speed or Incline Interval. The Workout Replay feature enables you to repeat a workout, or you can view your performance history based on your last 10 workouts. Trending Workouts are auto-refresh programmes and are trainer designed. You can even track your progress over time and push data to your favourite apps via Bluetooth or NFC connection.
Product features
Advanced exercise technology
Reinforced upright design
4.0 HP AC peak performance motor (4 HP peak performance, IE2 efficiency-rated at 2HP)
Sturdy DX3™ belt and deck system
Second generation FlexDeck shock absorption system reduces impact on the joints and ensures longevity
Wi-Fi-enabled LFconnect Protect allows for remote equipment monitoring
QR code, Bluetooth connectivity and NFC (Near Field Communication)
USB charging port, wireless connectivity, software updates (wireless or USB)
0.8-19.3km/h (0.5-12mph) speed
56 x 152 cm (22 x 60") running area
0-15% incline
20cm (8") step-up height
7" LCD console with touchscreen and tactile controls
13 languages: English, Russian, Spanish, German, Japanese, Dutch, Simplified Chinese, Traditional Chinese, Portuguese, Italian, French, Korean and Arabic
10+ programmes
RunSocial connectivity
Online virtual cycling with Zwift
Brushed stainless steel vent detail
Robust paint with corrosion, stain and chemical resistant coating
Titanium Storm frame finish FlexDeck® 2.0
Quick-release removable shroud for simple serviceability
3.5" precision crowned steel rollers, front and back
Adjustable levellers
Heart rate monitoring via chest strap and hand sensors
Polar compatible
Workout fan
Transport wheels
2 removable locking cup holders
Reading/device rack
Integrated accessory tray
Specification
Dimensions (L x W x H): 209 x 92 x 142 cm
Product weight: 197kg (434 lbs)
Maximum user weight: 182kg (401lbs)
Warranty: 3 years parts and labour