NAOMI Boxing Bridge
Contact us for a quotation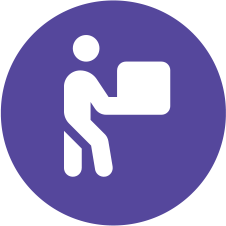 Free shipping on orders over £250

Download Product Sheet
Description
Naomi Fitness Design was established in 2015 and since then we have been designing, producing and installing technically advanced functional training cages on site. Sport is our passion and we are delighted to provide sport centres with high quality and high performance equipment so they can share our passion with others. Training cages are becoming increasingly popular in gyms and sport centres because of there ability to combine excitement with efficiency. We are pursuing our goal alongside our clients to give the very best experience and results to those for whom physical activity is essential.
We know that each client is unique and that is why we always have an individual approach to every new project. We put great effort into personalising training cubes during every step of production and installation. Over 80% of our collaborations are custom projects. Constant contact with the client is our biggest strength - our company is dynamic and flexible. Fulfilling the client's vision is our top priority. "Cube" can be designed basing only on the club's blueprints and customer's suggestions - we will do all the hard work for you - or it can be optimised at every step of manufacturing. Personalisation consists of not only colour or station customisation, but also the customisation of all the dimensions: height, length, and width of the construction. We can also modify our existing design to match your needs or create your own "Cube" cage from the ground up.
You can find over 40 different standard models in our offer on which up to 24 people can train simultaneously. We have one basic shape of Cube Line frame which we can be optimised according to the client's choice. It can become a Power Rack, a Wall or a Freestanding Cage, a CrossFit Rack, or a Suspension Bridge. There are no boundaries which we cannot overcome when it comes to building our equipment, so our frames can become a mix of all of the above. Our goal is to adjust any cube to a given space with maximum functionality and comfort of use. Each training cube is supplied with high quality Italian flooring whichever best suits the intended use. The floor can also be stylised to include the company's logo or any other graphic design. Production takes place in Poland with high resilient materials that conform to European Union Standards and that will serve you for years.
The NAOMI Boxing Bridge line has been designed to allow you to install and store punching bags in your training space with ease. The Boxing Bridge line has been designed for gyms wishing to integrate Boxing type sessions into their functional area. With its rail on which the punching bags slide, the chore of hanging and unhooking the bags is over: they are very easy to handle. And when not in use, they are neatly stored on the side of the structure, leaving plenty of room for TRX or Cross Training workouts.
To further optimize training space, the Boxing Bridge line can be completed with storage bays to store all functional equipment: TRX, Kettlebells, Slam Balls, dumbbells, elastic bands, etc. With the Boxing Bridge line, transform your functional area into a boxing gym in the blink of an eye!
Product features
Why choose the NAOMI Boxing Bridge?
With the Boxing Bridge, setting up and storing punching bags becomes child's play. No longer need to get together and use a stepladder. A single person can do it effortlessly. It's a saving of time and energy that will allow you to optimize the number of lessons on your schedule and that will change the lives of your coaches.
The Boxing Bridge line is a customer magnet! The punching bags immediately take effect, the equipment on the shelves leaves the space perfectly tidy and the structure itself is impressive. When you visit your club with prospects, they will have only one desire: to come and train with you.
The Boxing Bridge line lets you do it all! Boxing sessions of course. But once the bags are stored on the side of the structure, the space is completely free and allows you to do all types of training: Cross Training, HIIT, mobility and even TRX since the structure can accommodate anchor points.
The Boxing Bridge line can accommodate multiple accessories. Shelves and supports to "store all your toys". Pull-up bars, targets for Wall Balls and Squat racks for your Cross Training sessions. Anchor points for TRX or Flying Yoga classes. The only limit: your imagination.
Give us the dimensions of your training space and we will design the Boxing Bridge that will optimize every square meter. The objective is to provide you with a structure that will allow you to welcome a maximum of customers and to offer all the activities you want, all with an attractive design.
Are our Boxing Bridge cages able to take punches and kicks, several times a day, every day? YES! They are. The structure as well as the rail system are sized and manufactured in steel to withstand the most intense use and to last over time.
Specification
The Boxing Bridge line can be completed with the following accessories:
Storage shelves (dumbbells, kettlebells, balls, etc.)
Storage drawers
Carpet supports
Vertical scales
Horizontal scales
Pull-up bars
Dip bars
Racks to Squats
Anchors for TRX
Anchors for undulating rope
Groundmine