Ignite Fitness, Hertfordshire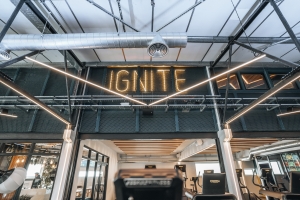 Engage, energise and excite with Ignite! Fire up your fitness for the perfect work out with Ignite's vast range of equipment, live DJ nights, creative classes on rotation and awesome trainers guaranteed to get you moving.
Ignite's fitness is seriously fun, with instructors who are driven to motivate, innovate and devise personalised programmes. Whether it's HIIT, spinning, bootcamp or boxercise that gets you buzzing, Ignite offers the variety and direction you need for body and mind.
CYC is proud to have recently supplied Ignite with sprint track, Concept 2 Ergs and rowers, the Precor Assault Curved Air Runner and some inventive Abs Company pieces.
Andrew Charalambous, Director of Ignite Fitness, Cuffley, spoke highly of his experience with Team CYC:
"We wanted to create a unique experience for our members, and knew that people were looking for fun, effective ways to work out. Craig and his team have certainly delivered! We love showing new members the gym floor and seeing their reactions to the brilliant TireFlip180, Target Abs bench and sprint track. Craig's experiences with gyms, meant that he understood our brief and delivered a fantastic set of products on time and without hassle through the pandemic. CYC saved the day when we had supply chain issues from other suppliers and resolved the problems with a quick call. We first approached Craig when we were planning the gym and consider him a real partner in our proud achievements."
Sharon Young
Content Manager