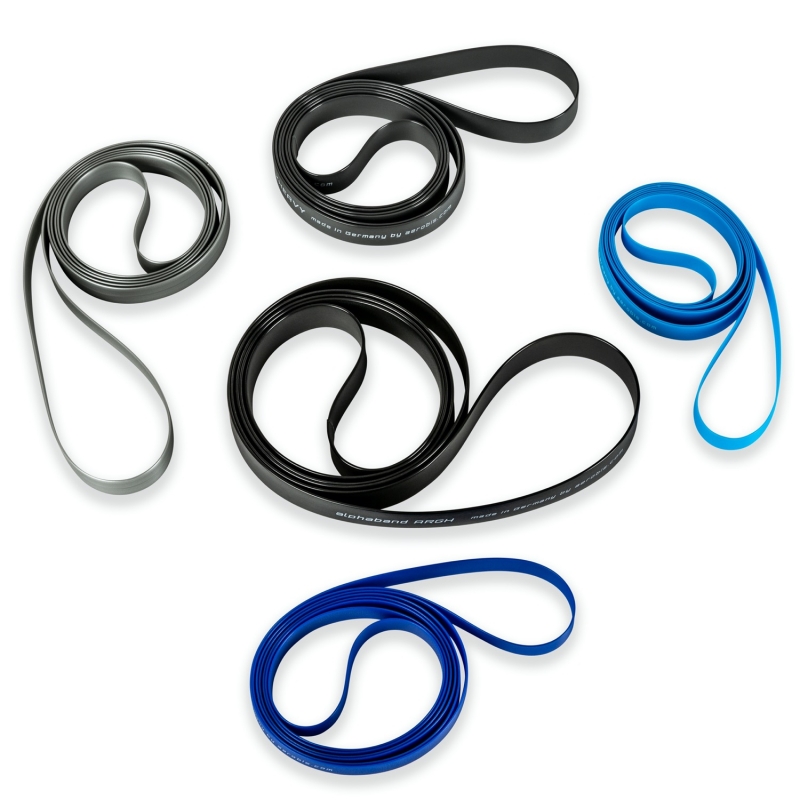 alphaband V2 Resistance Bands
Maximum resistance with maximum muscle contraction
Description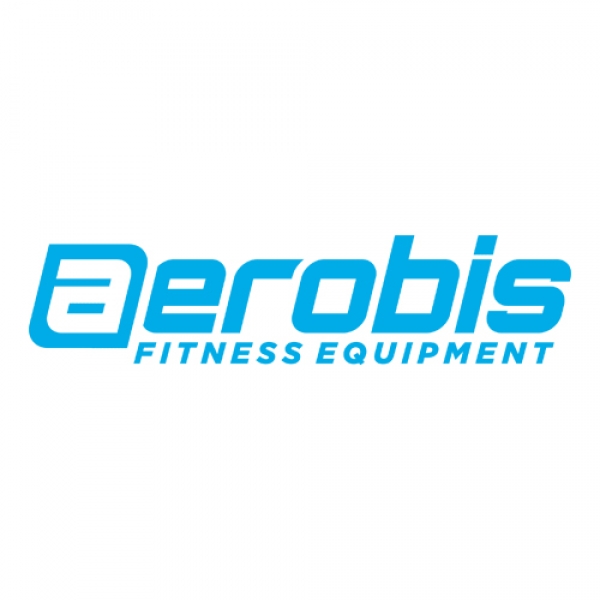 aerobis fitness bands generate a progressively increasing resistance and are ideal for strength training and muscle building. Maximum resistance is achieved exactly with maximum muscle contraction.
Better than dumbbells
If you compare alphabands with dumbbells, two differences are noticeable. First, dumbbells are always used to train against gravity, i.e. roughly from bottom to top. Resistance bands also allow horizontal movements, where the resistance arises in the direction of pull or push. Secondly, the resistance of the fitness bands increases in relation to the stretch. This makes the workout especially joint-gentle. For example, when bench pressing with fitness bands, the resistance is highest when the arms are completely stretched (lock-out). In the starting position, when the shoulders are in the weakest position, the resistance is also lowest. With the fitness bands you can do strength training with moves from bottom to top, and horizontally from top to bottom.
alphaband 2.0 – fitness bands further enhanced
The brand new alphabands are the logical further development of the first generation aerobis alphabands. They are made of polyurethane, but are even more compact, making them easier to transport and combine. Each band strength is now manufactured individually, and therefore not only produced with rounded edges, but also a permanently velvety surface. The new alphabands feel great, and have now been significantly reduced in terms of initial resistance. At the same time, elasticity has been increased from 100 to 150% to maintain maximum performance. Alphabands 2.0 are now colour-coded according to resistance so that they can be distinguished more easily.
The following variants are now available:
alphaband loop – a 100cm long round band. Strength training without handles and fastenings everywhere
alphaband 5m – a 5m open fitness band. Build your own resistance. Ideal with Rowstick
alphaband Trainer – the ultimate complete system for your strength training
V2 Features
Flexible - super easy to transport and fit in every pocket. Experience a fully-fledged fitness workout at home or just take the fitness bands with you to the park. The different band thicknesses ensure an intensive workout without the need for any additional equipment
For everyone - available in different sizes, strengths and variations. Whether you are a fitness newbie or a professional, there is a band for you.
Great value for money - the most versatile training device at a small price; a one-time investment for your body and health.
Versatile and multifunctional - for strength training, stability and endurance, alphaband is suitable for all types of training and strengthens the whole body. Whilst the focus of the exercises is often on larger muscle groups, you can also use the bands for small muscle groups and deeper lying muscles.
Intense - more muscles are used due to the resistance and absolute freedom of movement. The highest muscle contraction is also the highest strain.
Progressive - By varying the thickness of the ligaments, ligament combinations and distances, you create a training stimulus that makes your muscles grow. With a combination of the five different band strengths, you can create a resistance of up to 150 kilogrammes.
Highly effective - there is no cheating when training with alphabands, because every exercise is intensive.
Gentle and safe - training with alphabands is easy on the joints and reduces the risk of injury. The rounded edges and the velvety surface guarantee a good grip, and do not pull on skin or hair.
Anti-bacterial - alphabands are made in Germany and are easy to clean under the tap. Their material has antibacterial properties, is not made of latex, has no smell of chemicals and does not cause allergic reactions or skin irritations.
Durable - alphabands' material is stronger than rubber and latex, has integrated UV filters and does not become brittle or cracked.
Product features
Made in Germany from high quality PU
Create any resistance for your fitness training with these 5 metre bands
5 strengths that can also be combined: Light, Medium, Heavy, XHeavy and Argh
Bands can be combined to create resistance up to 150kg
Bands can be knotted to connect them to anything
Each individually produced band has rounded edges and a velvety surface
Stronger than rubber/latex and therefore many times smaller than latex bands
UV stable – bands do not become brittle and cracked when exposed to sunlight
Antibacterial properties and easy to clean
No latex, no smell, no allergies
Bundle option available for all 5 bands
5 metre open bands
Specification
Band resistances: 15, 20, 25, 35, 55 kg (150kg)
Warranty: 1 year