Pulseroll Vibrating Peanut Ball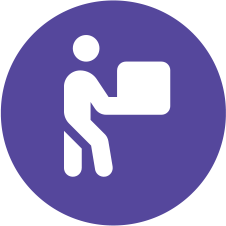 Free shipping on orders over £250
Description
Pulseroll provides the latest technology to improve training recovery, injury rehabilitation, muscle soreness and general wellbeing. With up to 5 intensity levels, its foam rollers balls and massage guns utilise the benefits of vibration to help with muscular pain relief, DOMS, increased circulation and improved mobility.
Pulseroll products complement physio and massage sessions, are lightweight, portable and offer unrivalled simplicity and usability. Their vibrations create heat that forces fresh blood into the affected areas of the body to increase circulation and promote a greater sense of wellbeing.
The Pulseroll vibrating peanut ball is a portable and lightweight handheld massage tool, ideally suited for myofascial release, trigger point therapy, and deep tissue massage. The innovative peanut shape fits comfortably around the muscles, really targeting the desired area. The lightweight and portable design makes it travel friendly and the perfect flight companion. Scientifically proven, the Pulseroll vibrating peanut ball is used by a full range of people, including professional athletes, physiotherapists, military, and the elderly. A Pulseroll vibrating peanut ball can be used on almost any part of the body, but works wonders on the glutes and calves specifically. It is also really great to use under the feet to work through the arches. The new ultimate recovery companion; you won't ever want the Pulseroll peanut massage ball to leave your side… back… glutes… calves… you get it.
How to use:
The Pulseroll vibrating peanut ball fits comfortably around the targeted muscle. The vibration technology does all the work, so there is less need for you to physically work. There are many effective ways you can use this product to receive maximum benefits. Starting with the peanut ball on the floor, you can either sit or lay on it in order to target the desired muscle area. Apply pressure and gently lean side to side and roll up and down. Another effective technique is to hold the peanut ball in one hand at one end so you can comfortably place the other end straight onto the muscle. All you need to do then is to apply pressure. If you're suffering from foot pain, a great technique is to place the vibrating peanut ball under the foot and apply pressure, rolling gently forwards and back across the sole.
Product features
4 VIBRATING SPEED SETTINGS
The vibrating peanut ball has 4 one-touch power settings, making the peanut massage ball ideal for warming up, cooling down, sports training and rehabilitation.
BUILT IN RECHARGEABLE BATTERY
To charge the battery fully, the charging time will take approximately 3 hours. When fully charged it can last up to 6 hours (dependent on power level setting).
REMOTE CONTROL
The vibrating peanut ball comes with a remote control that allows for a comfortable and convenient way to adjust the vibration speed.
SCIENTIFICALLY PROVEN
Scientific studies on Pulseroll products have proven an increase in training recovery & circulation by 22% and improved ROM (range of movement) by 14%
REDUCE NEXT DAY SORENESS AND MUSCLE PAIN
The combination of pressure and vibration helps to reduce muscle tightness, increase flexibility, and reduce next day soreness after a training session.
INCREASE BLOOD FLOW AND MUSCLE OXYGEN
Through regular use, the vibration technology within the vibrating peanut ball can increase circulation and flow of blood to the muscles. Use before sessions to enhance performance and after training to improve recovery and long term health.
RAPID TRAINING RECOVERY
Using the vibrating peanut ball for warming up tight muscles or for cooling down after training only takes a few minutes and is a quick and efficient way to achieve the best performance possible.
APPROVED BY PHYSIOS AND PRO ATHLETES
Pulseroll products are used widely by professional athletes and are available in physiotherapy clinics.
EASY FUNCTION
Let our vibrations do the work! With this handy muscle recovery product, you can sit back and enjoy the benefits with minimal effort.
PORTABLE AND LIGHTWEIGHT
The vibrating peanut ball only weighs 780 grams, making it very easy to transport and therefore is usable everywhere, whether it's at home, work, or at the gym. Just drop in the bag and take anywhere you go.
SAVE MONEY ON PHYSIO VISITS
The vibrating peanut ball is an affordable alternative to physiotherapy visits, making it ideal for the clients to use in the comfort of their home or to carry for use between sessions.
FASTER RECOVERY FROM INJURY
By improving circulation, blood flow, and range of motion, the vibration technology helps to avoid many common sport related injuries.
Specification
Engine Power
| | |
| --- | --- |
| Level One | 2200 RPM |
| Level Two | 3300 RPM |
| Level Three | 1500 – 3700 RPM |
| Level Four | 4000 RPM |
Battery type: Lithium-ion
Battery life: Up to 6 hours ( depends on power level )
Weight: 0,78 kg
product size: 18 x 7 x 7 cm
Color: Black, Red, Purple, Blue