Glorious garden gyms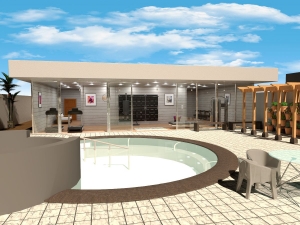 At CYC, we see the benefits and beauty in every fitness space, but for goals to be attainable, you have to love your gym for all that it offers you and your lifestyle. Many have the drive to get fit, but detest going to a communal gym, especially at peak times when it is at its noisiest and sweatiest.
In the UK it is estimated that an average of £500 million is wasted each year on unused gym memberships, and that the ideal distance between home and the gym is 3.5 miles. The theory is simple; find a gym close to home and or work, pay the monthly fee and attend three or four times a week. Sadly, the reality can be quite different. After a tiring day at work you still need to cook dinner, attend to the children, and try to make time to keep fit. What if you drive to the gym, struggle to find a parking space and have to queue for your preferred fitness machines? When you're feeling unmotivated and self- conscious, the easy option is to take a detour and head for the sofa.
Imagine being able to work out in the privacy of your own home with all your favourite equipment and personal touches, at a time that suits you? A bespoke garden gym could be the answer to all your fitness prayers, and is more affordable and accessible than you might think. Save time and money on travel and gym fees, and let your imagination run free to create a stunning home sanctuary for you, your family and maybe even your own fitness clients.
If you decide to construct a garden gym within two metres of your property's boundary, the permitted height is 2.5 metres. However, if you build beyond those two metres, there are no height restrictions or planning permission requirements. With higher ceilings and strengthened wall mounts, the opportunities for vertical functional fitness are endless, with the addition of the Training Wall® and its wide range of tools and accessories. Taller equipment, such as the Brewer Fitness Laddermill® and Treadwall®, and cardio machines, like the StairMaster® can also be accommodated.
Garden rooms can be as adaptable as you wish. Consider incorporating a private shower room, or creating a dual-purpose space with a study or playroom to free up some space in the house. As a garden room can boost an average of £30,000 to a property's value, bear in mind that this versatile addition will offer a unique selling point in the future. Getting closer to nature in a light and airy workout space is wonderful for improved mental well-being. An integrated entertainment system, climate control and your own personal style of décor are sure to increase those endorphins to raise motivation.
The choice of equipment for a garden suite is entirely yours, and less is more. With just three of four key pieces, such as a functional trainer, indoor cycle and elliptical, along with a free weights or yoga area, your gym can be complete. An integrated side canopy and outdoor training area would also be ideal, but do avoid the temptation to clutter. Quality and suitability are first and foremost. Your choice of fixings and flooring are crucial to maintaining a gym that runs free of troubles and expensive repair costs.
CYC has had the pleasure of designing and equipping some of the most inspirational garden spaces that have transformed our clients' fitness levels and homes. With our expertise and knowledge of the most appropriate and motivational equipment in the industry, a glorious garden gym could be gracing your abode before the change of season.
Contact us here at CYC for more information on our bespoke design and consultancy services. Using the finest 3D design technology, together we can create an exquisite fitness suite with meticulous precision and professionalism.
Sharon Young
Marketing Manager