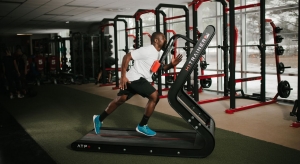 HiTrainer Appoint Craig Young Consulting As Exclusive UK & Ireland Distributor
Craig Young Consulting are delighted to announce exclusive distribution rights to the HiTrainer throughout the United Kingdom & Ireland.
The HiTrainer offers extraordinary measurable results that go the distance. HiTrainer conditioning has established a proven track record training elite professional athletes. We now share our unique strength driven performance technology with the fitness industry.
HITRAINER CAN BE USED FOR
• High Intensity Interval Training
• Group & Circuits Training
• Sled Training
• Speed Training
• Therapy and Rehabilitation
• Evaluation
PERFORMANCE FEATURE Drive-phase positioning is matched with a self-propelled variable-resistance running surface that ranges from speed to sled training.
FAST AND SUPER EFFECTIVE Conditioning with the HiTrainer ATP provides a unique selection of short, challenging interval training and sprint protocols ideal for HIIT (high-intensity interval training) and the perfect anchor for cross-conditioning circuits or athletic training
ON BOARD PROGRAMS Warm-Up, Walks, Intervals, Sprints
PATENTED TECHNOLOGY
• Exclusive HiTrainer Drive Position recruits all muscle groups
• Engages the posterior chain, the prime movers of forward propulsion.
• Preferred position to achieve MAXIMAL intensity
REAL TIME DATA
• The only trainer that provides detailed information on acceleration, left and right power outputs, and precisely timed sprint
• Data can be used for performance training, therapy, rehabilitation, and MOTIVATION
• Easily detect imbalances and help prevent injurie
SCIENTIFICALLY PROVEN PROTOCOLS
• HIIT and Sprint training pre-programmed protocols

• Different protocols guarantee muscle confusion and ability to avoid training plateaus
WHAT THE EXPERTS SAY
''The HiTrainer is a great tool for acceleration training because of the torso angle the athlete must maintain while sprinting. It allows the athlete to feel forward body lean, which is a key when teaching speed and acceleration.'' - Mike Gough, BSc. CSCS, Athletic Edge Sports, Bradenton, FL

''There is nothing better than HiTrainer. The proof is in the pudding. The HiTrainer three-minute program is the closest a fighter will get to the demands of a round of fighting.'' - Otis Grant, Pro Boxer, WBC World Middleweight Champion & Trainer

''The HiTrainer challenges the athlete's metabolic capacity to deliver the goods when they have to. It pushes you beyond your mental capacity, and that overreaching brings you into another domain, but it does it in a safe and effective environment.'' - Scott Livingston, BSc. CAT(C), CSCS, High Performance, Montreal, QC

''Safest and most efficient way to condition athletes. Period.'' - Jason Novak, Head Strength Coach University Central Michigan & Former Strength Coach NFL Tennessee Titans