Home fitness is here to stay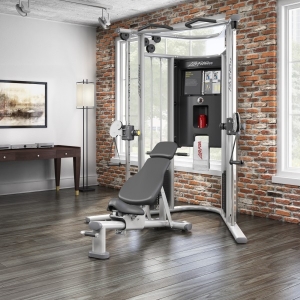 With an estimated quarter of the UK's workforce still carrying out work at their place of residence this Spring, and a rise in hybrid employment, the interest in home-based wellness remains at a record high. Latest research from Global Data shows that 53% of UK consumers have bought home workout products since 2020. Though many fitness enthusiasts have returned to the gym since the lifting of restrictions, to enjoy the vast array of equipment and social interaction, many are making the most of the convenience and comfort of home to create their own personal training haven.
There are enormous benefits to setting up a home fitness space. Firstly, it is often easier to fit workouts into a daily schedule and remain faithful to your fitness goals, without having to travel. It allows for very early morning or late night exercising, whenever suits. You can set your own budget, select the equipment you want, and tailor it precisely to your needs for optimal training. A home gym offers total flexibility, for example, you could plan for a wellbeing area for yoga and meditation, a functional space for free weights, accessories and storage, or even a combination of both.
Designing a home gym can be an exciting, but time-consuming and daunting experience. There are many factors to take into consideration, though you may already be more prepared, and more creative, than you think. Consider what you already have in place and how you could incorporate your workout space. Do you have a shower room or sauna? Is the room well ventilated, insulated and sound proof? What about technology? Will immersive systems and virtual reality make for maximum motivation?
Achieving the right ambience is vital to your fitness success, and that of your clients if you plan to offer personal training. Let your imagination run free with inspiring artwork, lighting, surround sound and floor to ceiling screens. You should allow enough space to move around, and the flexibility to change your layout later. Safety measures are crucial. Structural integrity of your walls, ceiling height, access for installation, power requirements and scope for storage all need to be assessed in detail. Consider your neighbours carefully, choosing flooring that absorbs noise and adequately protects your floor and equipment.
At CYC we offer expert advice, innovative products and meticulous planning for your dream gym. We provide a unique, bespoke experience that will see a stunning training haven brought to fruition, your home become more desirable and a wonderful sense of togetherness prevail for family, friends and clients.
Sharon Young
Content Manager