Force USA G20 All-In-One Functional Trainer With Lat Pull Down & Weight Plates (90Kg)
Contact us for a quotation
Commercial leasing
Available for 2 - 5 years from £ per month
Description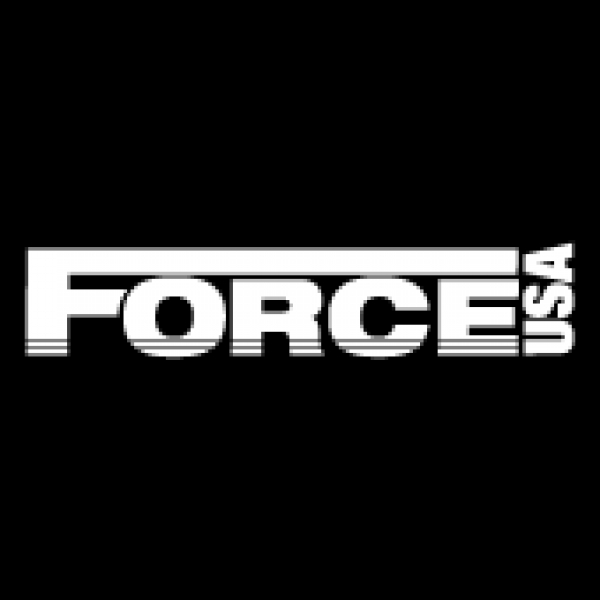 * Package includes Force USA G20 with Lat Pull Addition & 90kg of Force USA rubber coated olympic plates
Force USA designs and engineers the safest and highest quality strength training equipment for home and light commercial use. With state-of-the-art precision laser cutting and robotic welding technology, Force has proudly set the benchmark for supreme craftsmanship and affordability combined. Its equipment survives hundreds of hours of R&D testing in commercial conditions to meet strict quality standards. Even carton packaging is tested to guarantee a product's safe arrival at its destination. Force USA delivers the most robust and versatile customised multi-gyms, racks, cages, benches and attachments to take pride of place in any home, personal training studio or commercial gym.
Product features
With the largest number of top quality and refined attachments ever offered with a Force USA All-In-One Trainer or Monster Hybrid Multi Gym.
Designed and engineered in the USA to be the ultimate robust strength training machine and multi gym. If you thought it could not get bigger, stronger, better and more of a "gym beast" than the Force USA G12 All-In-One Trainer, then take a look at what years of advanced customer research and support has created. More solid and even more versatile and enough to create a variety of workouts for simultaneous workouts and trainers; geared the most demanding of trainers. The Force USA G20 All-In-One Trainer is the top of the Force USA All-In-One G series range full commercial version of the legendary Force USA G12 All-In-One Trainer used in personal training Studios and home gyms around the world.
Specification
| | |
| --- | --- |
| SKU | F-G20-1-P1 |
| Condition | New |
| Brand | Force USA, All-In-One Trainer G Series |
| Size Assembled (LxWxH) | W/D/H 191cm by 241cm (including lat attachment) by 231 cm. Internal working area: 111cm. |
| Size Boxed (LxWxH) | 5 Crates. Kerbside or Unpacked in van and brought into room of choice (Premium White Glove Service) |
| Minimum Ceiling Height | 235cm (7 feet, 8.5 inches) to Chin under the bar. To chin above the bar 260cm (8 feet, 5.3 inches) |
| Minimum Room Width | 231 cm absolute minimum, to allow loading of the Smith bar, 191 cm plus 20 cm each side |
| Minimum Room Length | 291cm. 241 cm for the G20 plus cater for another 50 cm for standing back from the power rack or for moving an adjustable bench within the frame. |
| Product Weight | Base unit : 650kgs, Base Units + Lat Attachment : 895kgs |
| Bolt Holes | Yes |
| Weight Stacks | Base Units: 2 by 130kgs Weight Stacks, Base unit + Lat Attachment 3 by 130kgs weight stacks. Band Attachments to Increase Resistance. |
| Frame | Walk through design. 3mm Extremely heavy duty 11 Gauge Structured Rolled Tubing |
| Protective Coating | Eco-friendly premium commercial grade powder coat followed by a durable clear coating with anti-rust protection |
| Warranty | Lifetime Structural Warranty, 2 Years on Moving Parts, 90 Days on Upholstery, 6 Months Accessories, Cables 2 Years (Extendable), Labour 1 Year (Extendable) |
| Resistance | Free Weight (Smith and Power Rack) and Weight Stack (DAP/ Functional Trainer & Low Row Lat Pulldown) |
| Expansion Ready | No need, Everything Included |
| Power Rack | The front frame uprights offer the serious trainer 51 positions as well as laser etched numbers. This means that you are able to attach your J-Hooks, safeties as well as monolifts at the perfect height for you as well as ensuring that both sides are at an equal height. Westside spacing means that you can adjust the settings to to various inclines on a benches or for your preferred height for partial or full movements including squats, front squats, bench press, shoulder press and lots more. |
| Smith Machine | Commercial Smith Machine & commercial grade guide rails with a capacity of 450 kgs. Commercial Knurling. Olympic Sleeves |
| Functional Trainer | 1:1 Cable ratio, 21 pop pin adjustment points, A smooth natural and frictionless movement is what Force USA pulley systems are known for. This is a 1:1 cable ratio similar to the Force USA G12 All-In-One Trainer which means a shorted cable movement with a direct effective weight of 130kgs of weight stack = 130kgs effective user weight. Please note that technically the weight stack mechanism will weigh a few kgs meaning that your staring weight plate will be the plate plus the central pin and mechanism. This leads to the the first weight setting being heavier than the weight of a single weight plates. The 1:1 ratio cable machine is designed for heavier and stronger lifters and is not used for very light movements. See the G6 or utilise a set of power bands. |
| Chin Bar | 3 Chin Bars. Front Ergonomically designed multi-Grip chin up / Pull Up station with a massive 350kg weight rating. Two Side Globe Multi Grip Chin Bars |
| Chest Press | Yes, with Functional Trainer, Smith Machine / Power Rack and Optional Bench |
| Rowing | Yes, Dedicated Base Pulley and Low Row Station |
| Leg Curls | Optional with Force USA MyRack FID Bench |
| Leg Extensions | Optional with Force USA MyRack FID Bench |
| Lat Pulldown | Yes, Dedicated Base Pulley and Low Row Station |
| Core Trainer | Yes, Included. Please note that there is no T Bar handle included |
| Leg Press | Yes, Now Included, Quick and easy Pop on, Pop off design, Chequer plate |
| Band Pegs | Yes, add even more resistance to your 130kg weight stack, or change the dynamic of the resistance as power bands increase the resistance as they stretch. |
| Dip Attachment | Yes, Folding dedicated dip station Knurled and powder-coated attached to the lat pulldown low row |
| Stability Bar | No |
| J-Hooks | Commercial grade Roller and Polymer J-Hooks, Capacity of 450 kgs |
| Safety Arms | Yes, Commercial Grade, Capacity of 450 kgs |
| Olympic Weight Plate Set | No, Optional, and during 2020 and 2021 may not always be available. Please ask us for more information |
| Installation | Optional, please see website pricing. Please note that during 2020 and 2021, covid regulations and restrictions have made installation and delivery a more lengthy process. Depending on the prevailing lockdown tiers and restrictions installation may NOT be available at all. When installation is available it will be set according to availability and will NOT be available on the same day as delivery. Please expect a wait of around 4 to 5 weeks. Please call for more information. |
| Additional Accessories Included | Lat Pulldown bar, 2 Metal D- Handles, 2 Nylon D- Handles, Tricep Rope, Tricep V Bar, Short Straight Bar, Double ended straight bar, close grip row handle, extension chains, spring collars 50mm, Oly lock collar, core trainer, leg press plate, 1 Multi Grip Chin Bar, 2 Globe Grip Multi Grip Chin Bars, exercise chart, J-Hooks with Polymer Barbell Protection, Front Safety Spotter Arms, Band Pegs, Booty Builder Pad, Monolift, Saw Tooth Adjustable Bar, Hammer Grip Bar, Calf Block, Knee Support for Lat Pulldown, Dip Handles (only with Lat & Low Row |
Frame

Lifetime Home Warranty on Frame
Light Commercial Warranty (supervised low volume usage less than 6 hours per day average) Available on Selected Units.
Moving Parts (Wheels, Pulleys and Cables)
2 Years unless otherwise stated.
Labour
1 Year (UK mainland only).
If you live in the UK mainland, you are covered for both labour and spare parts within the first year. Thereafter you will be charged only for labour and the cost of a technician getting to you if you need a technician. Many small parts are easy to replace.
Technical labour is spread across a number of highly qualified and specialised teams. As such, home and business visits need to be scheduled and may involve significant travelling arrangements. The average time period from reporting a fault until it is resolved will vary according to season, demand and where you live. This will be on average between 5 and 14 days.
It is highly likely that the engineering and customer care team will call you to try to resolve your problem before an engineer visit is arranged.
If the problem can be solved by simply sending you a part which could reasonably be replaced without an engineer then we reserve the right to do this.
Commercial leasing options
| | |
| --- | --- |
| Lease Term | 2 years |
| Weekly Payment | £0.00 |
| First Payment | £0.00 |
| 23 Monthly Payments | £0.00 |
| Total Cost | £0.00 |
| Tax Relief @ 19% | £0.00 |
| Net cost of Finance | £0.00 |
Benefits of leasing
Fixed rates for the duration of agreement
Major tax benefits - each payment Is 100% tax deductible
The equipment can be earning your next payment from day one
No need to have bank loans, overdrafts or pay cash
Fast application turnaround
Spread the cost of your equipment purchase
Protect existing lines of credit and preserve cash flow for business growth
All payments shown are subject to businesses trading over 3 years, status and VAT. The tax relief shown is for illustration purposes only. Please contact us to discuss how tax relief can work for you or alternatively your accountant will be able to clarify matters for you. Please note there is a documentation fee due with your first lease payment. Options are available at the end of the lease; contact us for more info.