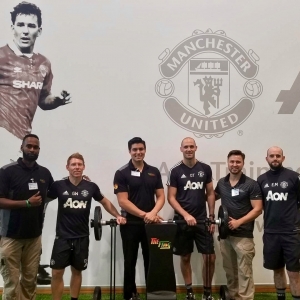 Releasing The Frog in Manchester
CYC is proud to announce our latest exciting partnership with US company Frog Fitness, to become exclusive distributors of thrilling total body resistance trainer, The Frog.
The Frog leapt on to the UK fitness scene just two months ago at the BP Fitness Trade Show, where it made its debut for CYC and caused a real sensation. The Frog is an innovative training device that works every major muscle in the body, either through individual muscle targeting, or simultaneously for a power workout. The Frog's unique design allows the user to match ability to exercise, and push to reach and exceed fitness goals whilst having great fun. It is suitable for anyone and everyone, and is already a huge hit in elite performance and professional sports clubs in the US. Here in the UK, Frog Fitness COO Steven Robledo and manager Joel Metzger recently presented their ingenious trainer to football clubs, Manchester United and Manchester City to demonstrate how The Frog can be successfully incorporated into their strength and conditioning programmes.
The Frog fits in perfectly with our other product lines at CYC, and our quest to keep bringing the most exciting, leading-edge equipment to the fitness industry. We are convinced that The Frog really is "The Next Big Thing in Fitness."
Sharon Young
Marketing Manager