Technological trends you can trust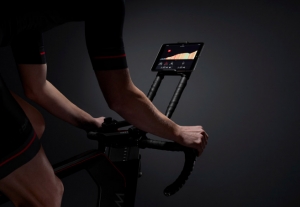 One of the biggest challenges faced by a studio manager, is the expectation to incorporate the latest trends and technology. At CYC we understand that staying on trend guarantees a steady influx of new members, as well as retention of existing members. It is therefore vital that you keep up to speed with what's in vogue in the fitness world, and with competing establishments.
Keeping connected
Investing in the latest cardiovascular integrated technology is one sure-fire way to get ahead of the game. Members can collate their fitness data, access entertainment, social media and the most visually stunning workout environment on a console much like their own personal tablet. You, meanwhile, can promote services, products and communicate exciting initiatives so that your members keep coming back for more. Integrated technology enables you to motivate and mentor your clients, forging special relationships with them. The aim is to enable them to feel that they don't just exercise at your facility, but that they belong there.
Uptime to the max
For the gym operator, it is crucial that such advanced technology is working to its full capacity, and this is where Asset Management comes into play. Asset Management systems can revolutionise the way you handle your equipment, facility and data, and ensure you maximise machine uptime. With Asset Management, you have instant access to product information, individual equipment activity and usage patterns, and can even manage multiple facilities.
Of all the tools Asset Management can provide to lighten your load, possibly the most appreciated are the service alerts to help keep your machines running smoothly. Asset Management automatically notifies facility staff and customer service of any maintenance concerns that need to be addressed. This allows you to take action immediately, as well as prevent the frustration and disappointment that the member feels when that preferred piece of equipment is out of service.
Functional training is here to stay
Alongside this latest cardiovascular equipment, what other innovative solutions should you be tempted by? Let's consider functional training, which is here to stay. Whilst we recall images of bulky, cumbersome frames from a decade ago, we now need to consider compact, multi-functional solutions for facilities where space is at a premium. There couldn't be a better time to adapt your studio, as there is some truly magnificent kit on the market.
On the wall
Regardless of the budget and space you have available, there is a solution for you. Every gym operator has four walls to work with. By investing in a solid, bespoke, wall-mounted structure, and now even floor-fixed wall, from Training Wall®, you can maximise fitness opportunities and utilise your wall space to full effect.
Wall-mounted frames can be installed as a single unit, or linked together. They can be configured identically for a class, or several unique stations can be created for small-group training and circuits. Wall training solutions enable the user to work the lower limbs and upper extremities together, whilst maintaining postural control. They are perfect, not only for building strength and stamina, but also for stabilising the core in pilates and yoga exercises.
Training Wall® even incorporates storage options, which are invaluable for the smaller facility. Multiple anchor points allow for swift transitions between exercises, and a whole variety of tools and accessories can be added to offer unrivalled versatility. They are, without a doubt, providing the smarter approach to functional training. Wall solutions are delivering inspirational fitness experiences, building loyalty and driving revenue.
Nobody puts stepper in a corner
At CYC we are experiencing a re-birth of the stepper with the soaring popularity of the StairMaster®.
StepMill, stair-climbing cousin of the flat treadmill. The idea for an exercise imitating the physical movements of climbing stairs was launched by Lanny Potts in 1983. His StepMill closely mimicked actual stair-climbing motions with an escalator-style platform, instead of individual pedals. It is from his model that some amazing equipment has evolved.
Potts' concept was transformed into a compact, efficient exercise machine. The StepMill provides a workout that burns more calories at a lower impact rate and lower speed than most other exercises. Climbing stairs is on trend, and has never been so much fun. The latest StepMill designs are being described as the queens of HIIT, High Intensity Interval Training, which involves repeated bouts of high intensity effort followed by varied recovery times. At CYC we are experiencing huge demand for the StepMill, due to its astounding benefits.
The StepMill incurs less impact than a treadmill, but produces higher cardiovascular results. It raises the heart rate almost immediately, even when set at the lowest level, and makes the user work hard without being hard on the user. The stepping motion keeps the foot flat and secure while climbing, and uses nearly every leg muscle, thus providing the lower body with most strength gain. Calves, hamstrings, quadriceps and gluteal muscles are trained by lots of repetitions, which have been proven to build lean muscle and burn fat. Core muscles are engaged by stabilising balance, which is more challenging than on other similar equipment, and endurance is improved by increasing the levels of speed and resistance on the StepMill.
Challenging the traditional dumbbell
Innovation that we champion here at CYC is the circular free weight, pioneered by the team of specialists at NuFit. Even distribution of weight around the entire hand compliments the kinetic movement of the athlete. Circular weights work naturally and more efficiently with the body to reduce common training injuries that arise with the use of more traditional equipment. Golfers and tennis players are benefitting hugely from the ergonomic design that is so much kinder to the torque and elbow.
Sharon Young
Marketing Manager