The fundamentals on fitness flooring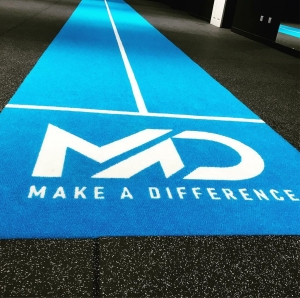 It's strong, sophisticated and provides the ultimate wow factor.
With more people exercising than ever before, it has become increasingly important to select suitable gym flooring. In the past ten years, studio flooring manufacturers and suppliers have seen explosive growth, and the market is set to continue expanding.
Here at CYC we source and supply the most innovative flooring options from leading manufacturers worldwide, and have a special partnership with Recreational Coatings. Together we ensure that site surveys, selection processes, subfloor preparation and installations are all carried out correctly and in line with manufacturers' guidelines. Choosing gym flooring has traditionally not been a terribly exciting affair but, as Ross Johns of Recreational Coatings tells us, fitness flooring has a phenomenal impact, and is now fresh, functional and transformational.
Recreational Coatings is a specialist sports and gym flooring installer, set up 30 years ago by Managing Director Jed Hill. Having worked in health and fitness for over 20 years, Ross has a wealth of expertise, and has experienced first-hand the changes in approach to gym flooring. He joined the company last year as an investor and loves the variety of his work. Recreational Coatings offers impartial consultancy on a wide range of flooring products for facilities ranging from sports halls and gyms to the most luxurious of hotels. They have both indoor and outdoor training spaces covered and supply to a great many universities and educational establishments.
Ross begins by telling us here at CYC that choosing the correct flooring for your fitness space is crucial, and mistakes can be very costly. Flooring deserves time and careful consideration, which is why site visits and extensive surveys are an essential part of the selection process. "Flooring can make the difference between a mediocre gym and one with one with an almighty wow factor. It can look outdated, so keeping on trend is important. Flooring has to be functional, practical and safe." Ross goes on to say, "It has to interact with the kit and the people using it, which is why we carry out rigorous tests by taking products into the facilities to be sampled. There are so many different styles, thicknesses and colour options available that trying them out is a must." At CYC we use the very latest 3D design technology to enable the client to visualise the studio, then select the materials we consider most suitable to the budget and specification of the project.
With an increasing number of studios popping up in residential buildings, it is essential to love thy neighbour by carrying out all the necessary acoustics and vibration transfer checks to avoid potential legal challenges. Rubber tiles, raised flooring and foam layers can all help to reduce noise transfer. Many new fitness facilities, that have already stretched their budget to the limit, might be tempted to buy the cheapest and quickest solution for their floor, but that will almost certainly backfire. Ross tell us, "At Recreational Coatings, a lot of our work involves refurbishing and resurfacing and around 20-25% of those jobs involve remedial work that has arisen from scrimping on the flooring. With the intense traffic in gyms nowadays, cheaper flooring may only last a couple of years, and the subfloor is just as important as the visible top layer. For example, a concrete floor will require thicker rubber and greater protection from damage."
Gym flooring needs to be thicker and more robust in heavy weightlifting areas, and should minimise movement of equipment. It needs to protect your members' bodies, and be conducive to performance enhancement. Springy, elastic flooring will protect joints and muscles and prevent injury. Premium rubber flooring from leading manufacturer Rephouse, comes with state-of-the art production technology, ISO 9001:2008 certification, and global reputation. Rubber is easy to clean and offers good resistance to heat and mildly acidic substances, such as sweat.
The amazing range of materials available today will enable you to choose different types of flooring to broaden training opportunities and create distinctive and motivational zones. Flooring sets the mood and tone for fitness. Pavigym are leading the way in innovative, immersive flooring, and wood effect vinyl, by companies like Gerflor, open up smaller spaces to make them look stunningly bright. Specialised markings, by Recreational Coatings, define functional fitness areas for high-energy, inclusive workouts, and training rigs, from brands such as Life Fitness and Technogym®, require specific markings tailored to the functional training zones. "Sports carpets, sprint tracks and number markings are hugely popular," says Ross, "Most new gyms will be looking to invest in bespoke branding to have their logo incorporated into the flooring, and this is where our role is so creative and exciting."
Ross goes on to highlight, "At Recreational Coatings we have our own in-house team of experts who are all highly skilled sport and gym specific flooring installers. We offer free, impartial advice on a huge range of products, which are often much more cost effective than our competitors. It is worth taking advantage of the fantastic services we offer and investing in the best materials you can afford. It will pay dividends in the longer term. We truly value our relationship with CYC and, as flooring comes to the fore of boutique fitness, we are very optimistic about our working partnership and the future of the studio floor."
Sharon Young
Marketing Manager