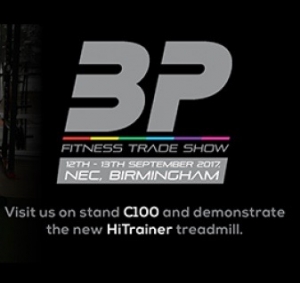 The launch of the HiTrainer - BP Fitness Trade Show, 12th & 13th September.
Craig Young Consulting is delighted to announce the expansion of its product portfolio, through a new partnership with HiTrainer. We will showcase the new HiTrainer treadmill range at BP Fitness Trade Show on the 12th & 13th September.
Patented HiTrainer ATP technology empowers everyone, from fitness enthusiasts to elite athletes, to realise their potential in fitness facilities, gyms and cross-training studios.
Managing Director, Craig Young, explained; "We came across the HiTrainer at IHRSA 2017 in Los Angeles and are delighted to have the HiTrainer as part of our product offering."
"The HiTrainer is totally unique and the only self-powered treadmill that puts the user in the drive position, as well as offering Watts feedback, and we are thrilled to be their new exclusive distribution partner in the UK and Ireland."
Commenting on the new partnership, Guillaume Paré, Vice President, Sales said "HiTrainer has always been passionate about building sustainable partnerships. When we came across Craig Young Consulting and learned of their focus on customers and doing what it takes to deliver the best customer experience, we realised that we have found the right partner in the UK & Ireland."
Ideal for fitness facilities, gyms and cross-training studios, the HiTrainer ATP model peaks the metabolism in super-efficient HIIT sessions. The patented HiTrainer drive-phase positioning is matched with a self-propelled variable resistance running surface that ranges from sprinting to sled training.
The HiTrainer ATP console provides pre-programmed warm-up, interval and sprint protocols. The on-screen performance feedback motivates the user to surpass its fitness level. The data is also useful to evaluate performance, monitor progress, identify left/right imbalances and develop training programs based on results.
For more information on the HiTrainer ATP and PRO treadmills please contact;
E: info@craigyoungconsulting.co.uk
T: 01978 812829