YOUNIX® ups the ante in the face in of COVID-19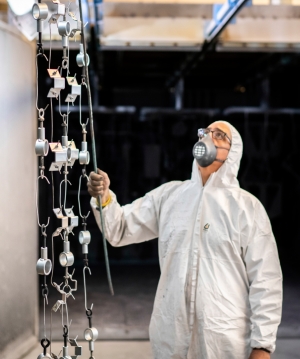 Never ones to rest on their laurels, the forward-thinking fitness specialists at YOUNIX® are ready to tackle the Coronavirus, and other dangerous bacterium, head on with their cutting-edge antimicrobial powder coating. At CYC and we are excited to offer yet another reason to invest in YOUNIX® quality.
YOUNIX® Paint Armour is the very first antimicrobial paint that is proven to inhibit the growth of microbes on gym equipment. On a painted surface, microbes can double in number every 20 minutes, impacting hugely on the hygiene, aesthetics and durability of your equipment. Once microbes have begun to proliferate on a painted surface, constant cleaning is required to keep growth under control. Recognising that constant cleaning is not always sustainable, YOUNIX® has created the best defence in their antimicrobial protective paint.
Based on silver ion technology, Paint Armour actively reduces the growth of harmful bacteria by 99.9%. It is now used on YOUNIX® metal products, such as rigs, racks, storage units and benches, and maintains its effectiveness 24/7 for up to ten years.
Alcohol-based gels and disinfectants are effective in removing dangerous pathogens, but only remain active for two hours, after which time new microbes continue to thrive. YOUNIX® antimicrobial technology has proven vital in reducing the vitality of the Norovirus on porous surfaces, such as paint, and is therefore, highly likely to destroy the lipid coating and essential components of viruses such as COVID-19. As with many aspects of the Coronavirus, more scientific discoveries are yet to be made, but whilst YOUNIX® is leading the antimicrobial revolution, it is a brand certainly worth watching out for.
Sharon Young
Content Manager