Break new ground with our exceptional fitness flooring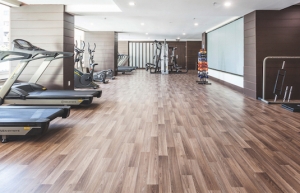 As we all eagerly await the green light for gyms to re-open, there has never been a more important time to consider the flooring that welcomes your clients back to communal fitness. Two years after writing our blog post on the fundamentals of flooring, packed with inspiration for mapping out fitness zones, choosing the right type for your kit and keeping noise to a minimum, our advice is still very relevant. The recent challenge of keeping workout spaces and reception areas COVID free does however, add a new dimension to the selection of flooring.
At CYC, we believe the impact of flooring is so great that we have invested in one of the largest and most varied collections in the UK. Our LVT Luxury Vinyl Tiles are ideal for reception areas. They come in a stunning range of wood and mineral look that are 100% recyclable, quick and easy to install and a dream to keep clean. Rubber tiles and rolls are available in a wide range of thicknesses, from 6mm to 75 mm. X Connect EPDM (Ethylene Propylene Diene Monomer) tiles come with exciting colour fleck options and offer unrivalled sound and shock absorption and protection against heavy weights and dumbbells.
Due to their dense yet smooth top layer, EPDM rubber tiles are low maintenance, simple to mop clean and can be line-marked and customised through waterjet cutting. This specialised process offers the highest quality and most intricate detail for custom logos. Waterjet cutting has the added advantage of being environmentally friendly, involving no thermal influences or contamination. Worth considering for both indoors and outdoors, are our vibrant, high density, UV-resistant, sprint tracks which also look incredible with bespoke branding. For sleds, prowlers and increased diversity in functional workouts, Sprint Tracks are highly affordable, yet stunningly transformational.
In these times, when some of our supplies have been tricky to acquire, CYC has secured a steady influx of flooring stock that all features on our website, and can be dispatched to our clients within 2-3 working days. This meansthat with comprehensive instructions, connectors, adhesive, and all hands on deck, fresher, cleaner flooring is more attainable than you might think. Our new Oswestry-based showroom, set to open in the autumn, will feature a dedicated flooring department with an extensive range of samples for you see, feel and try out for yourself.
Sharon Young
Content Manager