Brewer Fitness Laddermill® - reaching new heights in fitness innovation and popularity.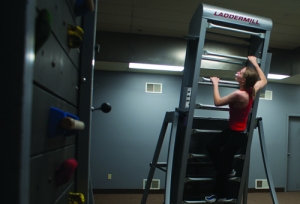 Brewer Fitness is a small group of people who are passionate about bringing the movement and adventure of rock climbing into the world of fitness. It is the innovation of Jeff and Conant Brewer, who launched the company in 1990. The Brewer cousins keep things simple, focus on the training, and hope their customers appreciate thoughtful craftsmanship that results in fun, motivational and quality equipment. They are passionately committed to their original designs and philosophy, and give the very best support to their customers.
Jeff and Conant specialise in a variety of creative climbing structures for all fitness facilities, climbing gyms, schools, rehabilitation centres and homes. Although adults remain their core audience, children and senior citizens have become some of their most enthusiastic customers. The Brewers love that vertical movement engages all ages and abilities.
Brewer Fitness is located just south of Boston, USA, in an old industrial park. Everything is built in-house with the drive to make as many of its products maintenance free. In the unlikely event that a Brewer Fitness piece should require attention, there is the protection of a full warranty. Brewer Fitness now distributes to an incredible 41 countries, 5 nation's militaries and to every type of commercial and home training facility.
What is Vertical Movement?
Vertical movement is the natural human need to go up. It promotes physical strength and mental balance. Climbing requires you to solve problems and make swift decisions whilst the body is in motion. This stimulates the brain cells, promotes a quick motor response and increases muscle fibre recruitment. Due to the interplay of multiple components, climbers tend to develop a heightened sense of body awareness and confidence during their everyday lives. Vertical movement leaves the mind refreshed and focused with a sense of exhilaration.
Brewer Fitness equipment offers the ultimate cross-training activity for a full-body, functional workout that is perfect for body sculpting, core-strength and weight loss. It helps you to focus purely on your movement, and to develop a new understanding of your body. More graceful and purposeful motion is a natural outcome of vertical movement. Like yoga, vertical movement enables you to build lean muscle. You learn to control your centre of gravity for improved balance and co-ordination.
The innovative Laddermill® Ascender, by Treadwall®, is a revolutionary new concept that represents a huge leap forward in climbing for fitness. It is a rotating climbing wall that incorporates Natural Pace Technology™ for self-paced, motor-less climbing. Brewer Fitness has married the simplicity of ladder climbing with the advanced features of Treadwalls for intuitive, full-body, functional movement. The Laddermill® has adjustable speed with built-in auto-stop, and its angle can be adjusted from an easy incline to an intense overhanging power workout. Its frame is compact and, since it is completely freestanding it can be placed anywhere in your gym.
Performance Features:
Simplicity. There is nothing to strap on, nothing to start up and staffing requirements are minimal. Climbers adjust their rate of ascent and angle with a simple lever.
Reliability: Treadwall® has a proven track record. More than 2,000 machines are in place worldwide. Operation is reliable, maintenance is minimal and service is swift.
Fun: Climbing is rewarding and truly enjoyable.
Safety: Climbers are never more than 1-2 feet off the floor. When it's time to stop, they just step down to the floor. The built-in auto-stop feature allows you to climb safely at any speed, without any safety equipment or harnesses.
No experience necessary: If you can run, you can climb. Just hop on and go! You set the pace, and Treadwall® adjusts automatically as you climb.
Benefits for all: Both experienced climbers and new users alike will instantly benefit from the core strength and balance gained from Laddermill® training. Cross training and total body training are becoming increasingly popular due to their efficiency and speed. The Laddermill® fits perfectly into these types of workouts, allowing long cardio burns at the easier angles, and quick muscle building workouts on the steep.
The Laddermill® is available exclusively from CYC.
Sharon Young
Marketing Manager