Bristol's breathtaking Luxe Fitness, CYC's most decadent design to date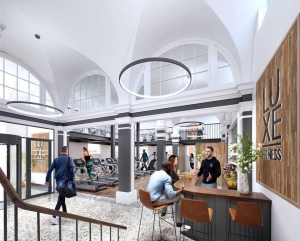 We are proud to announce our grandest boutique design and gym kit-out to date. The former Bedminster Library, in St. Peter's Court, one of Bristol's most intriguing historic buildings, has been transformed into the dazzling boutique gym Luxe Fitness, a decadent, state-of-the-art functional fitness hub.
The Victorian Grade II listed building has stood proud in BS3 for decades and was originally a staff theatre for the Wills Tobacco factory before it closed in 2016. Built in 1914 by the Wills family, who played a huge part in Bristol's Industrial Age, the building served, in more recent years, as an art gallery for the Bedminster library. During the restoration phase last summer, a great many artefacts were found under the flooring, including Wills Tobacco advertising signs, ticket stubs, a cigarette lighter and an old boxing glove.
Our partnership with Luxe began in September 2017 at the Body Power Fitness Trade Show, NEC, where we met Parantha Narendran, director of Luxe Fitness. Inspired by our gym design consultancy and innovative equipment, Parantha chose CYC to create Luxe's unique training haven. Following various meetings and site visits, Luxe officially opened its doors to the public in January 2019. General Manager Allyn Condon, former British Olympian relay sprinter at the Sydney games, and brakeman in the four-man UK bobsleigh team in Vancouver 2010, has worked tirelessly with us to perfect the lay out and equipment specification on this dream project.
Allyn announced; "The whole ethos of Luxe Fitness is to provide all the latest quality high-tech equipment in luxurious surroundings at a very affordable price. With over one hundred classes, and a coffee and juice bar, this 24/7 facility is a valuable asset for another of Bristol's up-and-coming fitness communities."
For their cardio areas, Luxe opted for 26 pieces of the very latest Star Trac® 8 Series, with integrated Bluetooth technology. Also selected were 8 pieces of StairMaster® HIIT equipment, including the HIIT Bike, HITMILL X, the Gauntlet and FreeClimber, to complement their functional training offering. Taking centre stage for the Les Mills virtual spin studio, the former grandiose theatre platform, are 15 cycles from the no1 indoor cycling brand Schwinn, along with studio accessories. Luxe's strength training area is home to 30 spectacular pieces of Nautilus equipment, including power cages, Smith machine and free weight benches.
The second storey mezzanine floor of the gym was designed specifically to house a versatile and airy functional training zone beneath it, encompassing a custom-built rig. The bespoke rig, with integrated Concept 2 SkiErgs and cable crossover, was manufactured to fit and suit the black and slate grey Luxe colour scheme, and match the Nautilus collection.
Compact dead lift stations and UK manufactured conditioning equipment were also tailor-made in the colours of the rig and Nautilus strength equipment. Gym Gear, Jordan, Escape Fitness and the Physical Company were the brands of choice for a comprehensive and versatile range of accessories to complete the Luxe fitness retreat.
Sharon Young
Marketing Manager