CYC Fitness opens new gym equipment superstore in Oswestry.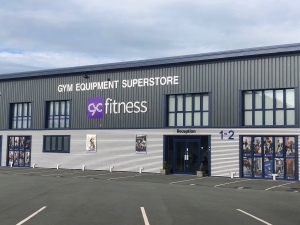 Our new gym equipment superstore is located at the Artillery Business Park, Oswestry and offers an exclusive, quality experience, where inventive brands can be sampled in their entirety in a 4,500 square feet fitness utopia. Take the opportunity to enjoy product demonstrations, the freedom to explore and try before you buy.
We have everything under one roof, from the niftiest gym accessories to flooring, state-of-the-art cardio and climbing equipment and the sturdiest, most innovative functional training pieces in the industry. With a welcoming sales team set to share comprehensive product knowledge, we guarantee a memorable fitness adventure.
Whether you need accessories, cardio machines, strength training equipment or gym flooring we have over 200 items on display in our showroom and over 2000 products on our website.
Gym design / planning service
Expert advice, over 50 years industry experience
0% finance & commercial lease options
Installation
Service & maintenance
Industries best and most innovative fitness brands
We look forward to welcoming you to the CYC Fitness superstore
Tel: 01691 888 050
Email: info@cycfitness.co.uk
How to find us
Unit 1 - 2, Artillery Business Park, Oswestry, Shropshire, SY11 4AD