Home sweet home gym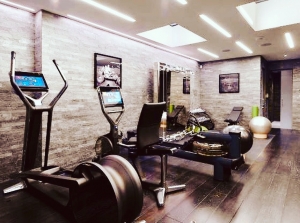 At CYC we celebrate dynamic boutique fitness communities. We strive to create stunning workout hubs and inventive group programming. Most people are inspired by the environment and social aspect of the gym, and motivated by expert-led classes. However, the communal gym and large classes are not for everyone. Some people find them overwhelming and simply prefer to train alone. If you are yet to find your comfort zone, why not look to setting up your very own home fitness haven.
Picture your unique gym space, custom-created to your needs, lifestyle and tastes. A bespoke home suite allows you to work out at your convenience, and relax in the ambiance of your choice. Save time and money on travel and gym memberships, and add interest and value to your home with exclusive fitness styling. With our free, 3D walkthrough design service, CYC can produce stunningly realistic visuals, and furnish your room with the sleekest and most innovative equipment. No matter how small or challenging your workout zone, we can source the most fitting solutions.
When choosing your space, consider a room that will be free from distractions; a place that will make your goals achievable and that can evolve with you over time. Tailoring your environment to your personality will create the happy place that spurs you to success. First, consider the practicalities like ceiling height, head room, noise levels and access for installation. Rather mundane these factors may be, they are crucial when deciding on equipment and flooring. At CYC, we recommend you start with the basics and plan for realistic additions and upgrades for when the time is right to stretch your budget and broaden your fitness options. Less is certainly more, and if you overload your space you will not be contented to work out there. Clever storage solutions will keep your gym airy, tidy and safe. Aim to factor in scope for rearranging equipment, particularly if you like change and versatility.
There are some incredible space-saving fitness pieces available through CYC, such as the compact functional trainers by Inspire Fitness and the ingenious wall-mounted Training Wall® and its wide range of accessories. With careful checking that you have sufficient surrounding space and strength in your walls to support optimal use, such equipment would make for wise investment. If however, you are keen to keep things simple to begin with, start with some essential dumbbells, barbells, resistance bands, a bench and mirrors for superbly effective strength training.
When designing your gym, consider what you would like your fitness focus to be. If you are a cardio king or queen, you might wish to look to our iconic brands, such as Life Fitness and Precor for a state-of-the-art elliptical trainer or treadmill. For a stunning fusion of aesthetics and functionality, the exquisite WaterRower rises to a league of its own. Where serious strength goals are concerned, you may require more space and high impact flooring for a lifting rack and heavy weights. Finally, for some high-energy cross-training fun, a rig, boxing bag and sprint track would set your training ablaze. Engaging, multi-functional frames and tools by Escape Fitness would keep your stamina and motivation high, and offer the possibility to establish your very own boutique community.
Whatever your location, the choices and opportunities are endless at CYC.
Sharon Young
Marketing Manager