How clever use of floor space enhances the workout experience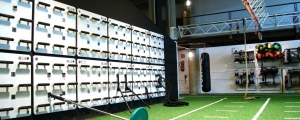 One of the biggest challenges gym managers and trainers face, is restricted floor space. Careful gym design and planning is crucial to a facility's success. Effective design can revolutionise your appeal and enables your trainers and members to work out in a safe, comfortable and inspirational environment.
The latest functional training equipment is highly attractive to gym owners with space at the forefront of their mind. There are some fantastic, multi-functional products on the market that can maximise floor space, and offer your clients variety and excitement in their workouts. Compact, wall mounted systems, like Training Wall®, offer endless exercise options and versatility, as do bridge and arc functional training rigs. These are a great alternative as they provide an ideal functional training solution, whilst maintaining floor space underneath and around the unit. Storage is often cleverly incorporated around the perimeter of the frame. Strength and conditioning equipment manufacturers are now thinking more about storage within their rack and platform designs. Previously, their prime concerns were about bars and plates, but now there are endless add-ons and attachments to consider.
It is essential for facilities to invest in adequate storage solutions for their functional fitness training equipment. Gyms now have more smaller accessories than ever before and it is vital that they are suitably stowed. Pieces of kit lying around on the floor or piled up in a corner, present serious health and safety issues. Many of the equipment manufacturers now offer compact and intelligent storage options within their designs, which will inevitably increase ease of usage and improve overall member experience.
CYC has a clear focus on products with exclusive and unique features, and particularly those which guarantee the maximisation of studio space. NuFit Corp is a superb example of a company that not only offers ingenious ergonomics in NuBells, but that also recognises the importance of practicality and storage with its unique barbell system. There are some amazing self-propelled treadmills that can be operated in sled training mode, such as the revolutionary HiTrainer, or used with added weight plates to the farmers walk handles. These are great alternatives should you not have room for a 10 metre + indoor track. Tyre flipping and battle rope work in smaller spaces has also been made possible by the impressively compact TireFlip 180, and the latest Smith Cage Systems/functional trainers have a smaller, more versatile footprint than ever before.
Sharon Young
Marketing Manager