Keeping connected through COVID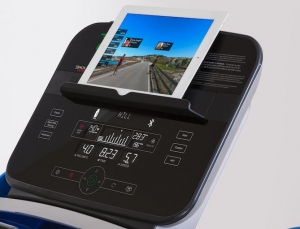 Who could possibly have predicted that, one year on from the outbreak of Coronavirus, we would be plunged into our third national lockdown; the world shuttered, in disarray, and still battling to rise from the challenges of the pandemic? The harrowing sense of loss that COVID has brought is a numbing tragedy, but where there is life there is hope. Where there is hope, there are ways we can try to live our best life.
We are all aware that the physical and emotional states of wellbeing are virtually inseparable and that, to deal with hectic, refashioned work schedules and home-schooling unscathed, we would need to re-assess our fitness routines following the closure of UK gyms. Tech-savvy PTs launched superb online coaching to keep us mobile and motivated. Demand for fitness equipment shifted to the home market and, more specifically, to advanced customisation and virtual terrains that would keep us engaged and connected.
The surge in sales of technology-focused exercise machines, and paid digital subscriptions to fitness classes, has given Canadian upstart Aviron the ideal base on which to pivot towards the home market with its gamified rowers, initially intended for high-traffic settings. In 2020 Aviron, with its mere 10 employees and claim to "end boring workouts" suddenly found itself competing against the tech giant Peleton.
Rowing requires the use of 85% of your muscles, simultaneously engaging both the upper and lower body. Rowing alone can however, be rather monotonous, which is a factor the Aviron specialists fully understand. By upping the ante with thrilling short, HIIT workouts, and the most exhilarating virtual challenges, they take rowing to entirely new realms. Aviron rowers transport their comrades to scenic destinations and terrain of fierce competition to unleash endorphins, strengthen muscle, and build endurance. Equipped with a fully immersive, high definition vibrant 22" HD touchscreen, The Tough and Impact Series' compile an entire history of yours and your friends' workouts, so you can track each other's successes and stay motivated.
At CYC Fitness, we have responded well to a rise in a demand for fitness interactivity, and have adapted our product ranges to meet the needs of our clients. Four out of every five enquiries we receive in relation to cardio equipment lead to discussion on, and ultimately purchase of, machines with Bluetooth connectivity and compatibility with apps such as Zwift, LFconnect and RunSocial. Exercise technology is no longer a luxury, but a prerequisite. With the myriad of on-demand entertainment and customisable workout options available, from iconic brands such as Life Fitness and StairMaster®, why shouldn't the discerning home fitness enthusiast aspire to the most immersive experience?
It is not easy to glean positivity from a global pandemic, but the supersonic success of exercise connectivity may well have been accelerated by our desire for human interaction, and our need to feel in touch with the rest of the world. As restrictions are lifted, gyms will certainly have to re-adapt to a post-COVID state, and our work and wellness regimes may have changed for ever. For now, we can be thankful for our fitness innovators, who are keeping us walking, running, pedalling and rowing to our goals, and providing a whole lot of fun in the process.
Sharon Young
Content Manager