New Outdoor Functional Training Area At Club Kingswood!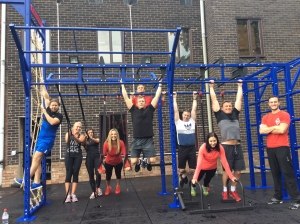 Craig Young Consulting is delighted to have embarked on a thrilling new venture with the multi-award-winning independent Club Kingswood in Essex. Craig Young Consulting provides dynamic fitness solutions to health clubs and gym operators throughout the UK & Ireland, and is the exclusive distributor for Training Wall, Grappler and Gym Wipes.

In collaboration with the gym specialists at Club Kingswood, we at Craig Young Consulting have designed, supplied and installed a brand new bespoke BeaverFit outdoor functional training area. Through a passion for endurance, fitness and tactical readiness, BeaverFit has built an enviable reputation for innovation in physical education, design and manufacturing.
BeaverFit believes it is vital to educate gym managers and their team on how best to use their equipment. This global approach offers the most comprehensive and highest quality training. BeaverFit courses are specifically geared to providing strategy in human performance factors, and continued education for the prevention of musculoskeletal injury. Their methodology is research driven and supported by extensive work in elite sport, the Armed Forces and injury rehabilitation domains. BeaverFit training is designed to explain, teach and enable safe and effective execution of exercises, including their correct progressions and regressions.
The unique BeaverFit outdoor system incorporates TRX suspension points, chin up stations, battle rope points, wall ball rebounder & parallette bars. It will also feature a 3.5m cargo net and rope climb, 5m monkey bar run, adjustable plyometric step, dipping station, core plate attachment, pull up wings and ladder bars. The frame is galvanised and powder coated specifically for outdoor usage, and to withstand the harshest weather conditions. Rubber flooring tiles, with a thickness of 30mm, were supplied to cover the 60 square metre area, offering complete protection from the impact of free weights.
As Club Kingswood approaches its 50th anniversary, it has a whole host of reasons to celebrate. It is widely recognised as one of the finest health clubs in the UK, and currently holds the National Fitness Awards title for 'Best Customer Service'. After having won the coveted accolade 'National Gym of the Year' in 2010/2011, the club has been consistently short-listed amongst the top gyms in the UK. Club Kingswood has also won several industry awards, including 'Best Customer Service in Essex.'
Club Kingswood continues to go from strength to strength. It is always looking to refresh and add to its impressive range of facilities by providing the very highest level of professional and personal service. Club Kingswood prides itself on its development of outdoor programmes, such as Boot Camps, HIIT Sessions and Obstacle Course Training.
Manager Alex Owen said, 'Our members love the individual and group training sessions outdoors, particularly when the weather is decent. We therefore, decided to capitalise on this demand by looking at investing in some outdoor exercise equipment. Thanks to our collaboration with Craig Young Consulting, Trade Fitness Solutions and BeaverFit, we now have a fantastic, multi-functional floodlit area which can be used all year round.'
We at Craig Young Consulting feel honoured to be developing a special relationship with Club Kingswood, and wish the staff and their members every success with their Beaverfit system.
For further information regarding Craig Young Consulting's services and outdoor fitness equipment range, please email info@craigyoungconsulting.co.uk or telephone 01978 812829. Website - www.craigyoungconsulting.co.uk.