Fitness Mad Rectangular Jute Buckwheat Yoga Bolster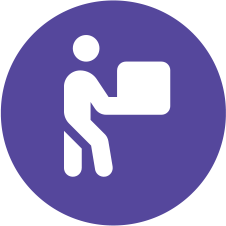 Free shipping on orders over £250
Description
Fitness Mad has 20 years' experience in the health and fitness industry, and offers high performance, commercial-quality equipment at excellent value. Fitness Mad is the choice of leading gyms, health clubs, studios and fitness instructors. Whether you are seeking products for home or professional use, or looking to improve speed, strength or recovery, Fitness Mad has something special for you.
Take your body conditioning and training to the next level with Fitness Mad exercise mats, gym balls, aerobic equipment and suspension trainers, and wind down with a selection of foam rollers and massage tools. Fitness Mad prides itself on its choice of premium yoga and pilates pieces at the most competitive prices in Europe.
EAN: 94049090
Product features
Our rectangular bolster offers shallower support and larger surface area for reclining, supine or seated poses, which can be more comfortable than the traditional round version. They can also be used on their 'spine' for those wanting a deeper stretch. Complete with a carry handle, making them easy to transport, and filled with natural buckwheat filling that moulds to your body as you lie on it, yet offering firm support. Zipped cover for easy cleaning.
100% natural eco-friendly buckwheat filling
Ideal for meditation & relaxation
Comfortable rectangle design
Specification
Code: YBOLSTJUTE
Brand: Yoga-Mad
Material: Jute/cotton fabric with buckwheat filling
Colour: Natural
Dimensions: 61cm (L) x 26cm (W) x 14.5cm (H)
Weight: 3.9kg each
Care Instructions: Only the outer cover can be cleaned. Cold hand wash. Line dry. Do not put through a machine wash or spin cycle as this may damage the cover. Wash separately.