The Abs Company AbCoaster PS500 - Changing home fitness from the core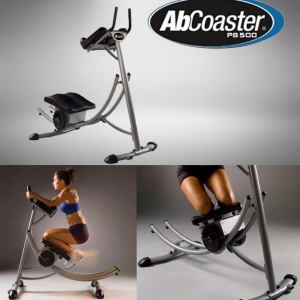 Stocks of the super sleek, affordable Ab Coaster PS500 have arrived at CYC.
The Abs Company AbCoaster is THE original award winning abs workout machine. For over 10 years, the AbCoaster has been used in millions of homes around the world to Change Lives From the Core. As the base model for the Personal Series home market, the AbCoaster PS500 puts you on the fast track to great abs. This is a traditional ab crunch machine in reverse. Rather than working your ab muscles from the top down, the AbCoaster PS500 works from the bottom up, helping you target those hard-to-reach lower abs. Just kneel on the comfortable carriage, and pull your knees up. As you lift, the knee carriage glides along the biometrically-designed curved track, engaging your lower abs first, then the middle and upper region to give you a complete abdominal workout.
The AbCoaster keeps you in perfect form. It makes it easy for anyone, regardless of fitness level, to exercise the entire abdominal region correctly and effectively every time, without straining the neck or lower back. The AbCoaster features a multi-angle adjustable swivel seat to help work the waistline, and particularly troublesome "love handles". Its plate-loading posts add extra weights for advanced users. The AbCoaster PS500 has all the same features and benefits as some of The Abs Company's commercial models, but is slightly smaller for those who wish to conserve space.
The PS500's sleek design fits into the most compact space, making it perfect for home use. Easy assembly and detailed instructions will have you set up in minutes. The AbCoaster's light, yet high quality durable steel construction creates the perfect home fitness piece to target your torso.
Features:
All steel construction
Free-style motion seat
Vinyl covered foam padding
Digital workout counter
Easy move casters
Nylon rollers
DVD and meal plan included
Product Specification:
Model no: PS500
Frame dimensions: H 127 cm, L 130 cm, W 64cm
Unit weight: 32 kg
Weight plate capacity: 9 kg
Maximum user weight: 136 kg
Warranty: Home only, 5 years frame, 12 months parts, 6 months wear items and upholstery