The best of British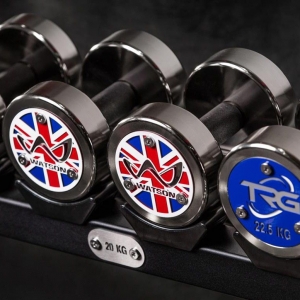 At CYC we have always been keen to support quality UK gym equipment manufacturers and, since the start of the pandemic, our UK collaborations have proved more important than ever. We have worked tirelessly to overcome the challenges of delayed production times, particularly in the Far East, but those, along with ever rising shipping costs, have motivated us to alter our business strategy and promote the best of British to meet our clients' demands.
As stockists of trusted specialists of strength, such as Exigo, Kustom Kit and Watson, we supply stunning bespoke equipment made to order, offering endless scope for individuality and creative styling. Custom colour options, on rigs, racks, machines, multi-gyms, stands and benches, make for unique, statement pieces that co-ordinate with your brand. Bespoke logos on wooden lifting platforms and stitched upholstery emblems create the perfect finishing touches, helping to develop a stronger brand and a proud fitness community. Solid steel custom weight plates and dumbbells can be the ultimate showstoppers, with personalised end plates, designed using coloured layers for a striking 3D effect.
On the functional training front, Escape Fitness' innovative frames and storage solutions also offer the advantage of UK manufacturing and therefore, superb quality control. Intelligent, modular designs can be tailored precisely to your needs to optimise space and maximise client engagement. Specialised equipment and exclusive experiences lead to fulfilment of fitness goals and a flourishing facility.
Buying British products offers peace of mind in these times of uncertainty. The finest welders and fabricators work with British steel to achieve superior craftsmanship and unparalleled durability. Where every component is designed, manufactured and tested in the UK, there is greater control over costs, quality and lead times to offer an unrivalled level of service and lifetime guarantees.
For the turnkey project, from preliminary sketches to installation and beyond, we bring you the best of British, and the finest fitness innovation from around the globe.
Sharon Young
Content Manager