The revolutionary aerobis powrlink Sensor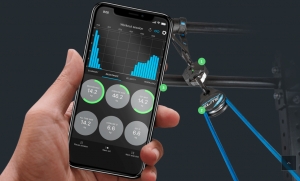 Powerful data at your fingertips for only £399.99
aerobis introduces another revolutionary first for the industry with the powrlink Sensor. The powrlink is an extremely compact device that connects to your fitness equipment to record and visualise the force that is created during exercise. Making fitness training measurable anywhere, the powrlink displays accurate training data effortlessly. It provides essential insights and acceleration measurements to develop power. Time under tension and total workload can now be recorded alongside your workout automagically with powrlink.
powrlink Sensors can record your suspension, resistance band and even rowing data, as well as training on a standard cable tower. Simply hook on the powrlink and away you go! Force data will be continuously measured and displayed on modern iOS and Android phones or tablets.
Instant data
Live graphical feedback and subsequent in-depth powrlink analysis enables you to adjust your training, showing you exactly how are progressing within a certain exercise or set, compared to previous data. Live graphs and gauges show you how far you are from your personal best. The powrlink offers invaluable monitoring for PTs, and is the perfect motivational tool to use at home and in a commercial setting.
Small and powerful
Designed and built in Germany, the powrlink Sensor is compact enough to take wherever you want to go. It is so small that it fits into any pocket, yet offers load measurement of up to 120kg.
Priceless gains
The powrlink is priced like an average smartwatch. Made from stainless steel, with specially encased electronics and sensors, it is safe and strong. The powrlink app is free of charge and available for download at Apple and Google.
Sharon Young
Marketing Manager