Training Wall® home fitness for the whole family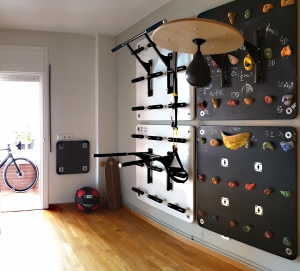 Training Wall® has been using invaluable lockdown time to design some fabulous new panels, with you and your family in mind. With commercial gyms still closed, and kids' sports and extra-curricular classes suspended, it can be tricky to keep the family occupied and on track with their fitness goals, especially when the weather isn't so kind.
Training Wall Home Gym offers yet more variety in your training, and is a fun new option for motivating the whole family to try vertical fitness. Its climbing holds of varying sizes guarantee sufficient challenge for everyone, and the panel is fully compatible with our wide range of accessories.
The Training Wall Climbing Wall Panel is even funkier and appealing to kids, making it perfect for schools and home fitness. The enchantingly diverse black slate lacquered panel, which can be drawn on with chalk, would complement an existing Training Wall® system or make a rewarding, compact addition to a family gym.
Sharon Young
Content Manager