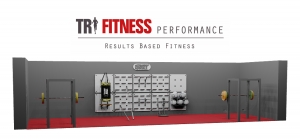 Training Wall UK & Gym Gear team up with Tri Fitness Performance in Guernsey
Training Wall UK is delighted to announce that we have teamed up with Gym Gear to kit out the new functional training facility at Tri Fitness Performance in Guernsey.
Tri Fitness Performance is set to install an exclusive, custom designed 10- panel training wall system during the planned equipment upgrade and refurbishment in July 2016.
This state-of-the-art functional training solution, by Training Wall®, will include 6 panels with Training Wall's versatile climbing handles, and a comprehensive range of accessories including; punch bag station, plyometric step platform, core plate/grappler attachment, multi-grip chinning bar, dipping station, lever system, rope pull training, rebound targets for wall balls and storage shelves.
Designed and engineered in Barcelona, the Training Wall® is a revolutionary system that uses only body weight for training. It allows the lower limbs and upper extremities to be worked simultaneously, whilst providing complete control of posture and stabilisation of the joints and core. The Training Wall® is perfect for bodyweight, resistance and flexibility training, and is suitable for all ages and abilities, as the style and intensity of the exercise can be tailored to the individual.
Training Wall® is designed and manufactured to the highest standard, using the highest quality materials. It is a solid and attractive structure that can be placed almost anywhere. The beauty of this unique wall system, is that it can meet all your functional training needs in almost zero square metres. It offers unrivalled flexibility and comfort in your multi-purpose training area, be it a functional training space, group classroom or rehabilitation room.
Training Wall® is made up of panels that have a quick-release anchor system to attach and release additional tools. There is a vast range of innovative attachments that have been designed exclusively for use with the wall. Low, mid and high anchor points on the wall can accommodate dipping & pull up bars, resistance bands and ropes, boxing bags, suspension training straps and a multitude of other tools. Quick release attachments ensure swift set-up and speedy transition between exercises.
Training Wall UK and Gym Gear are incredibly excited about our latest project, and about seeing this amazingly versatile piece of equipment being optimised by Tri Fitness Performance.