Nautilus Glute Drive in stock and available to order from CYC Fitness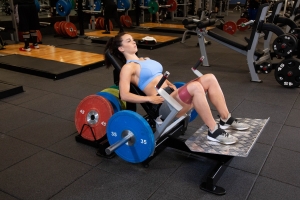 Order you Nautilus® Glute Drive today here at CYC Fitness.
Inspired by the increasing trend of glute exercises seen in various and dangerous executions in the gyms today, the Nautilus Glute Drive piece safely and smartly isolates your glutes, building power through a strong hip bridge motion, creating sexy glutes, improved hip and core stability. These benefits are universally desirable, important for a wide variety of sports and exercises, and are arguably the most important muscles for total athleticism. The Glute Drive gives you the full benefits of the hip thrust exercise, simply, safely, and with good form. The machine is designed to promote good biomechanics and balanced weight curve. A comfortable padded belt secures the user to the back pad which supports the full length of the spine for added safety. Users can load up to four plates of each side, which gives the machine a maximum weight load of 360lbs.
Upper body pivot bench provides full spinal stabilisation and support
Heavy reinforced padded waist harness provides optimal lifting application
Oversized angled foot platform to accommodate users of all sizes
Dual sided safety catch and release mechanism for ease of use
Bottom dropout safety stop
360lbs max load capacity
Integrated resistance band pegs for modification of load curve
Commercial Grade dual pivot bearings
3mm wall thickness industrial grade steel
Delrin coated protective wear surfaces on heavy contact and load points
Length: 157.5cm (62 inches)
Width: 152.5cm (60 inches)
Height: 89cm (35 inches)
Product weight: 91.6kg (202lbs)
SKUs:
Glute Drive: NP-L1131
Optional plate storage rack: 731-8296-26