The magnificent Inspire M3 at a great Black Friday price.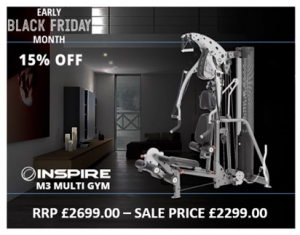 BLACK FRIDAY IS HERE! MAKE YOUR MONTH WITH THE MAGICAL MATTE BLACK INSPIRE FITNESS M3 MULTI-GYM AND AN AMAZING £400 DISCOUNT.
Now only £2299.00 including VAT and delivery, whilst stocks last
-TOTAL BODY MACHINE:
Over 100 different types of exercises, with 1 efficient tool
-BUILT-IN CRUNCH BENCH
The patented seated crunch station is a one-of-a-kind integration
-INDEPENDENT PRESS ARMS
Work both arms at once, or individually with the unique press arm design
The Inspire Fitness M3 is THE total body machine. This gym now features dual isolateral press arms and a new dual high pulley system. Its award-winning design features a commercial quality abdominal crunch station built into its head pad, and a seated leg curl station for shaping glutes and strengthening hamstring muscles. The M3's patented dual back pad tilt provides superior fit and comfort.
Visually inspiring, and compact enough to fit on a 4"x 6" mat, the M3 is constructed of commercial 11 gauge steel, nylon pulleys, tensile strength cables and precision ball bearings in its press arm pivot. As standard it comes with a 210 lbs weight stack for even the most serious lifters.
The M3 combines style and functionality beautifully. Try it at your nearest authorised Inspire retail showroom, and don't miss out on strengthening and shaping your body at this great Black Friday price.