We Change Lives From The Core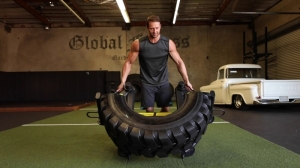 The Abs Company's TireFlip 180 is a commercial-rated functional training tool that features a half tractor tire mounted on a 180-degree rotating pivot for performing tireflip exercises alone or with a partner in a stationary location. Tire training is a workout that combines total-body strength, raw power, cardio, and agility. Flipping a tire uses your entire body from start to finish, providing a dynamic combination of muscles for a great workout that taxes both the muscles and the aerobic system. It's one of the most effective and physically demanding strength and conditioning workouts available. Tire training can add a new dimension to any fitness conditioning programme.
Not all gym facilities are willing to take on the challenges of making tire flipping accessible and available to their members. The TireFlip 180® solves these problems, and does a whole lot more! The TireFlip 180 comes in 2 sizes: the standard TireFlip 180 and the heavier TireFlip 180® XL. Taking up only 4' x 5', the space saving design requires only 20 square feet of dedicated floor space, give your boot camp members and personal training clients an exciting and effective workout like they've never experienced before. Plus, each model allows you the ability to add free weight resistance to give you a broader training range so there is no longer a need to have multiple tires in your facility to accommodate all users.
Flip it. Hit it. Step on it. Jump on it! Anything you can do with an actual tire you can do with the Tire Flip 180 because it is a real tire. The TireFlip 180 uses only brand new tires rather than used tires to avoid any previous tire tread wear, imbedded sharp objects, or exposed tire wires. Do all the things you would with a traditional tire including:
Tire flips
Plyometric jumps
Step-ups
Push ups
Macebell workouts
Heavy rope exercises
For solo tire flipping, partner training, circuit training, or small group training the TireFlip 180 is the perfect functional training device to deliver challenging, effective, and fun workouts in a safe, space-saving exercise zone. Revolutionize your tire training!
"Having the Tire Flip 180 in our gym truly gives us something to brag about. It is multi-functional, space conscious, and easy to use. The Tire Flip catches the eye of everyone that walks buy and definitely sparks their interest. We use it as a selling point to every prospect." – K. Black, Retro Fitness (Yorkville, NY)
To view more of The Abs Company products, follow the attached link.