PIT SHARK® TALL FRAME BELT SQUAT
Contact us for a quotation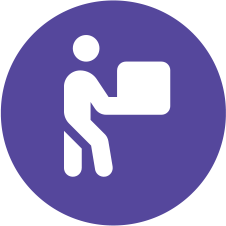 Free shipping on orders over £250
Description
The Pit Shark is an incredible strength and plate loaded mass builder used to train old school movements safely and efficiently. It's commercial grade and is ideal for individuals to large groups interested in building strength and power with these foundation exercises. Everything old is new again when it comes to this advanced design. Fully adjustable handles allow exercises to be done off the floor, on the foot pads, or on an optional close stance platform.
The TALL FRAME PIT SHARK is basically decked out with all the Handles. It comes with Standard (1.5" diam.) Chin Handles and Dip Handles. It includes Squat Handles and the hip Belt with Speed Hook. It's an incredible training tool that allows you to do strength training while de-loading the spine. PIT SHARK SQUATS, with the risk of spinal compression removed, is the foundation movement done on the PIT SHARK - but the possibilities are endless.
Other optional accessories expand the strength movements possible. Adding optional Push-Up/Squat Harness for doing Weighted Push-Ups and Harness Squats is a favourite option, as well as a Front Squat Strap for doing suspended Front Squats (similar to a Zercher Squat). Adding a Row Platform and Deadlift Bar allows you to pull some heavy, heavy rows with a simple set-up. The ROCKIT® grey urethane weight plates would be the perfect add on to your belt squat, not only are they premium polyurethane you can also personalise and custom brand your weight plates.
Product features
The confidence that comes from the risk of spinal compression being removed, translates into far better technique.
The PIT SHARK is an ideal "Squat Teacher".
The TALL FRAME PIT SHARK efficiently fits on a 4 x 6 mat.
The PIT SHARK removes the time-wasting Set-Up required and improves the safety of doing Body-Weight and Weight-Loaded Squats, Chins, Dips, Calf Raises and much more.
It's easy hook-up with the hip belt (included) and you instantly realize the freedom of movement possible. It's possible to isolate the lower body effectively when not distracted by a bar on your back - the safety is built in.
Specification
238cm (H) x 158cm (W) x 167.64cm (D)