PIT SHARK® WEIGHTED PUSH-UP
Contact us for a quotation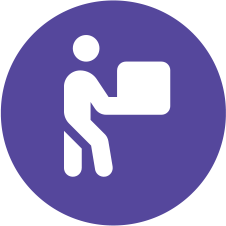 Free shipping on orders over £250
Description
The Pit Shark Weighted Push up is commercial fitness equipment perfect for professional gyms and residential settings. We offer superior quality equipment with weight capacities and durability unmatched by other brands. This gym equipment is priced much lower than comparative equipment and even comes at less of a cost than lower quality gym equipment manufacturers.
Our team of sales professionals is ready to answer your call and help you get the most for your money. We know there are a lot of options out there, but we can guarantee you that you will not find a better product than the Pit Shark Weighted Push up, from both a quality and value perspective.
Push-Ups are trained as possibly the number one way to strengthen the core and upper body, as well as a way to increase and build your Bench totals, but there's never been a safe, easy setup in the gym for performing them. The PIT SHARK® Weighted Push-Up design keeps the weight under the Lifter, removing the risk of getting trapped under the weight, no matter if performing a Weighted Push-Up as a maximum press movement or an accessory movement. The PIT SHARK® Weighted Push-Up is the safest and best way to build the core and sta-bilizer muscles in a way not possible with other methods.
The Pit Shark is an incredible strength and plate loaded mass builder used to train old school movements safely and efficiently. It's commercial grade and is ideal for individuals to large groups interested in building strength and power with these foundation exercises. Everything old is new again when it comes to this advanced design. Fully adjustable handles allow exercises to be done off the floor, on the foot pads, or on an optional close stance platform.
Other optional accessories expand the strength movements possible. Adding optional Push-Up/Squat Harness for doing Weighted Push-Ups and Harness Squats is a favourite option, as well as a Front Squat Strap for doing suspended Front Squats (similar to a Zercher Squat). Adding a Row Platform and Deadlift Bar allows you to pull some heavy, heavy rows with a simple set-up. The ROCKIT® grey urethane weight plates would be the perfect add on to your belt squat, not only are they premium polyurethane you can also personalise and custom brand your weight plates.
Product features
8-11 gauge steel frame ensures maximum structural integrity, adhesion and durability.
Incremental weight. Most machines have 2 weight horns available, but others have more. Each horn holds 5-7 standard 2" Olympic plates.
Replicates biomechanical movements.
Short, direct transmission of resistance.
Adjustable seats
Precision welded and steel frames
Steel frame ensures maximum structural integrity, adhesion and durability.
Smooth performance and premium durability.
Hand grips are an extruded thermo rubber compound that is non-absorbing, and wear-and-tear resistant.
Specification
Includes: Push-Up Handles (5 adjustable widths and 3 different knurled grip areas; parallel, standard, and angled) Harness w/chain and SpeedHook included Weight Storage Horns Band Pegs ***Choice of 1.5 in. or 2 in. diameter Handles ****Elevated foot platform stores up out of the way when not in use.
Dimensions
88.26cm(h) X 110.49cm(w)* X 177.8cm(l)
With elevated platform stored *Width: 187.96cm(w) with weight load bars installed **Length: 289.56cm(l) with elevated platform down and in use Color Choices: Gloss White / Gloss Black / Matte Black PATENTED.