HEX™ Large 17.5KG - 30KG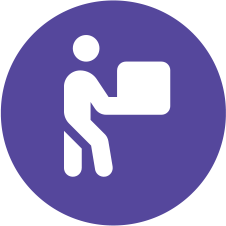 Free shipping on orders over £250

Download Product Sheet
Description
Experience the future of multifunctional fitness first hand with Hex®, cutting-edge equipment set to reshape the exercise industry. Prepare to transform the way you work out and unlock unparalleled versatility like never before. From strength conditioning to loaded movement training, core stability to high-intensity interval training (HIIT), Hex® offers endless possibilities to elevate your fitness journey.
Hex® is a game-changer for fitness enthusiasts of all levels, offering a versatile, portable, and user-friendly design. Say goodbye to the limitations of traditional equipment and embrace a world of endless opportunities. From squats and lunges to bench and stepper exercises, Hex® provides unmatched comfort and functionality. Rest assured, its carefully crafted design ensures a safe workout without any damage to your floor (or toes!)
Revolutionise your workouts, with Hex® by your side, you'll unlock new dimensions of training possibilities. Experience the freedom to customise your workouts according to your unique preferences and goals. Hex® can be used individually or in group training and fitness classes, eliminating the hassle of constantly setting up equipment. Say hello to convenience, versatility, and efficiency - all in one multifaceted solution.
Product features
At the core of Hex® lies a commitment to safety, convenience, and sustainability.
Crafted with a foam-based material, Hex® is not only comfortable but also fully recyclable. We take pride in being an environmentally responsible manufacturer. Rest easy knowing that Hex® is proudly made in the UK, reflecting our dedication to quality and craftsmanship. Choose your perfect training partner in weights ranging from 5kg to 30kg UK made from robust, yet comfortable materials. Registered design, and Patent pending 2101622.5.
Unlock Your Full Potential with Hex®: Elevating Loaded Movement Training Hex®
The ultimate solution for loaded movement training. Combining taskoriented movement patterning with unparalleled quality and innovation, Hex® revolutionises the way you move, train, and achieve optimal results.
Discover the Power of Purposeful Movement
Agility and strength are derived from purposeful tasks performed with added resistance. Hex® empowers you to move dynamically, engaging your entire body in every exercise. By integrating the entire structure and every muscle group, Hex® transforms every movement into a core exercise, a strength exercise, and an agility exercise, enhancing your performance in all aspects of life and sport.
Unleash Your Potential
Hex® offers proven benefits. Loaded Movement Training effectively challenges and conditions multiple systems of the body. This comprehensive approach enhances balance, agility, and dynamic strength, enabling you to reach your goals, from weight management to improved functionality in daily life and elevated performance in sports.
Seamlessly Integrate Loaded Movement Training
Hex® complements your current training methods seamlessly. No need to replace your tried-and-true approaches. Simply incorporate the revolutionary concept of Loaded Movement Training into your existing protocols, amplifying your gains and unlocking new dimensions of fitness excellence. With Hex® by your side, your training routines will reach new heights of effectiveness and results.
Specification
Choose your weights:
Grey Large: 17.5kg
Olive Large: 20kg
WhiteLarge : 22.5kg
Light Grey Large: 27.5kg
Black Large: 30kg