HOLD STRONG Drop Pads
Contact us for a quotation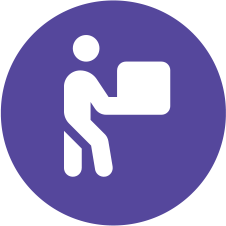 Free shipping on orders over £250
Description
HOLD STRONG Fitness GmbH is a project that originated in 2015 in Dortmund, Germany, with the ethos "To deliver the most functional and versatile equipment that doesn't yet exist, one must simply create it." The company first started with the production of high end pull up bars, and has recently taken the next step into the functional fitness market. Functional Rigs have evolved in every size, shape and colour imaginable to HOLD STRONG's unsurpassable level of precision manufacturing and quality. HOLD STRONG is forward-looking with a holistic approach to training that has given rise to one of the most exciting and inventive ranges of equipment in the industry. Perfect for both home and commercial fitness studios, HOLD STRONG's racks, weights, plates, intelligent solutions and fun, innovative, ever-expanding range of functional accessories offer the complete fitness package, with durability and affordability guaranteed.
With our Dropping-Mat Set you are well equipped for heavy lifts in your own four walls. Thanks to high-quality foam filling including a durable outer shell, drops in your own premises are now possible without any problems. The Cerakote Elite Bar would complement this product perfectly.
In addition to protecting the floor, the dropping mats offer an extremely high reduction in sound and noise. The additional rebound reduction minimizes the risk of uncrolled weight drops.
Product features
HOLD STRONG Fitness Drop Pads
The HS Dropping Mats are the optimal soil protection for all cases. With our mats, we have created a completely mobile solution that enables weightlifting under all spatial conditions. For gyms, boxing and your home gym.
An all-rounder: mats for dropping barbells and Co.
The HOLD STRONG Dropping Mats allow the dropping, i.e. throwing off even heavy weights from all heights and positions. The mats are mainly designed for working with the barbell and are compatible with Bumber Plates, Competition Plates and all other forms of weight discs. They are equally suitable for Olympic weightlifting, powerlifting or cross-fitness. The mats are delivered in a set of 2 and can be positioned as desired, so that the length of the barbell does not matter.
Of course, it can also be used with other free weights such as dumbbells or kettlebells.
Perfect all-round protection thanks to dropping mats
Our dropping mats reliably protect even sensitive floors from damage caused by the shedding of weights. Cracks and dents are a thing of the past.
However, the mats also reduce noise and vibration even when throwing off high weights. Thus, the use is particularly worthwhile in gyms or cross-fitness boxes, which are located in the immediate vicinity of other businesses with public operation or residential buildings.
But also garage and home gym owners will find in the HOLD STRONG Dropping Mats the perfect solution to be able to carry out their weightlifting training even in the early morning or late evening hours.
By the way: The Dropping Mats absorb the force of the impact and thus prevent uncontrolled "jumping" of the Lanhantel – a gain in safety that should not be underestimated.
And not to forget: Your barbell will also thank you for the gentle surface with a longer service life!
The uncomplicated alternative to the fitness floor
The dropping mats can be placed freely in the room as well as on weightlifting platforms or in front of squat racks. Outdoor use is also possible in normal weather without any problems.
This means that the discharge mats are not only particularly flexible, but also represent an inexpensive and low-effort alternative to the complete installation of a gym floor.
Other uses for Dropping Mats
Dropping mats can not only intercept dropped weights. Many weightlifters use them with a combination of plyo boxes as an alternative to expensive jerk blocks, for example, to train cleans or snatches from an elevated starting position.
Specification
Weight - 20kg
Manufacturer - HOLD STRONG Fitness
Dimensions (LxWxH) - 90 x 50 x 30cm
Warranty - 2 year