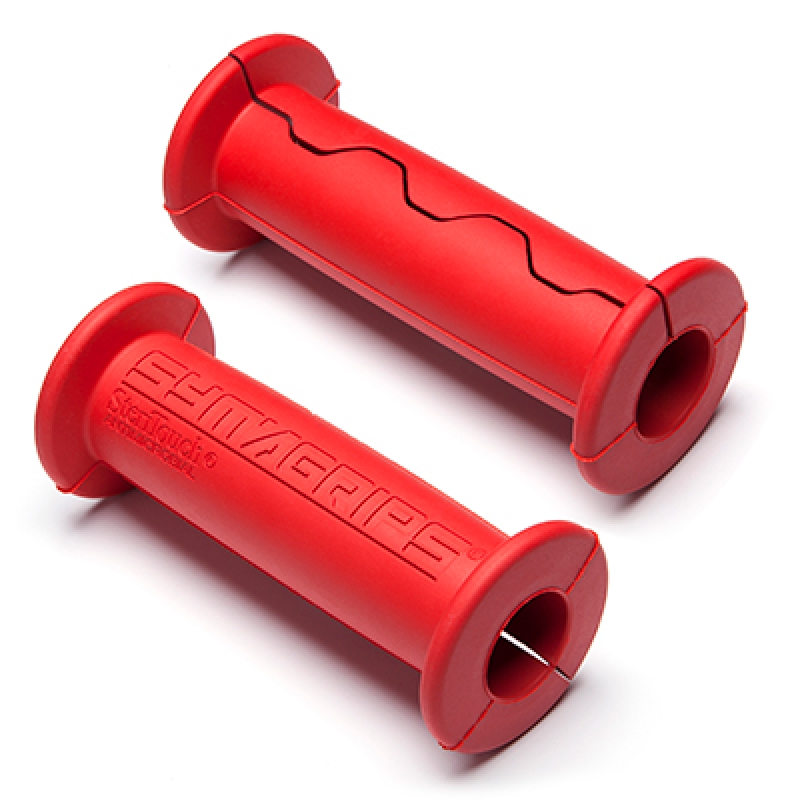 SYMAGRIPS® Pair
Antimicrobial hand guards made in the UK
Description
SYMAGRIPS® are unique, patented, antimicrobial hand guards, designed and manufactured in the UK. With their award-winning design, based on the bike handlebar grip, SYMAGRIPS® are a game changer for any gym enthusiast. They offer unsurpassed levels of comfort and technique enhancement to a plethora of gym equipment, mobility devices and warehouse and distribution equipment. SYMAGRIPS® offer grip stability and correct hand placement, which are crucial factors in any effective exercise form. SYMAGRIPS® optimise both with a combination of the highest quality rubber and SteriTouch® technology to keep your hands dry and your grip secure.
SYMAGRIPS® allow for safe, microbe-free handling and greatly reduce risk of infection, cross-contamination and transmission. With SteriTouch®, a unique silver ion material, SYMAGRIPS® are tested and scientifically proven to be effective against enveloped viruses similar to Coronavirus, COVID-19.
Product features
Cutting edge antimicrobial rubber
SteriTouch® infused rubber protects the user from exposure to stay germ-free whilst using hand-held gym equipment fitted with SYMAGRIPS®. Added in powder form at the point of manufacture, the antibacterial performance of SteriTouch® remains effective for the lifetime of the grip.
Comfortable handling A rubber weight-lifting grip design
The SYMAGRIPS® unique ergonomic design and special soft rubber formulation enables movement symmetry and hand alignment, decreasing the risk of muscular imbalances and injury, whilst improving technique.
Versatile and hygienic for a wide range of gym equipment
SYMAGRIPS® are popular among bodybuilders and fitness bloggers looking for an alternative to unhygienic gym gloves.
Easy to fit and remove
The precision engineering of SYMAGRIPS®, with their flexible rubber and interlocking traction split line, makes fitting and removing them quick, easy and secure.