YOUNIX® Action Rope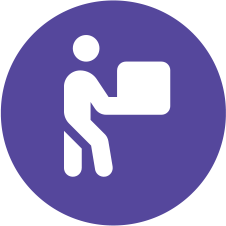 Free shipping on orders over £250
Description
YOUNIX® comprises a team of athletes, coaches and gym owners who design, engineer, and manufacture state-of-the-art fitness equipment for your performance goals. YOUNIX® is an Italy-based brand synonymous with quality. It offers a holistic, supremely professional approach to gym design and fitness training. YOUNIX® fuses style and quality to produce motivational equipment of the highest calibre. Its complete collection of weightlifting, conditioning and bodyweight pieces, with bespoke rigs and inspirational storage solutions, are conducive to smart and safe training that provides long-term results.
What makes Younix Action Rope your best choice?
Speed
This is a non-bearing speed rope. A 12 cm plastic handle with no texture on it and a steel cable covered in PVC ensure a smooth and fast spin. Singles, double-unders or triples, this rope covers it all.
Adjustable length
An adjustable screw at one end of the PVC wire allows you to adapt the length of the rope to any height or jumping style.
Multi-purpose
Thanks to it's budget price and solid construction, this rope is optimal for your gym for multi-purpose training. It can handle the most punishing athletic use.
Product features
3 Reasons you should get your Action Rope
Team training
Include jump rope training and get the fun factor that will help your clients stay motivated. Remember, consistency is everything.
Train anywhere
Action jump rope will give you the freedom to take your training on the go. It gives you endless versatility.
Good for anyone
It can be used for all fitness and ability levels. Weather your clients goals are conditioning, fat loss or peak performance this rope will get the job done.
Specification
Material: PVC
Mechanism: Bushings
Handle length: 11cm
Handle diameter: Tapered handles from 15mm to 10mm
Cable length: 3 meters
Cable thickness: 2,5mm
Cable cover: PVC
Spin: Fluid
Speed: Regular
Set includes: 1x rope, 1x cable
Warranty: 2 years against manufacturing defects. Normal wear and tear, which does not affect performance, may occur with repeated use and is not covered by the warranty.